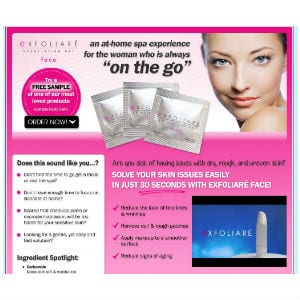 Exfoliare says that it can provide an at-home spa treatment in a portable package that you can do just about anywhere. We've seen anti-aging products that promise the same thing, but not quite like this, and their offer seems to be straight up at first glance, so let's see what details we can uncover.
Overview
Trying to get better looking skin is important because it does convey a lot about us. Healthy, radiant skin that is pretty wrinkle-free and blemish-free just makes a person look young and healthy. On the contrary, patchy skin, or wrinkly skin will make a person look old before their time. That's why products like these will always be in demand, and that demand should grow over the following decade as more and more people hit the age of getting wrinkles.
The Claim
Exfoliare bills itself as an alternative to chemical peels and microdermabrasion. That means it's going to try and help with fine lines and wrinkles, uneven texture and skin tone. They say it can be applied in just 30 seconds, which would make it one of the fastest anti-aging products in terms of applying it. Many times you'll see an anti-aging kit with multiple steps, multiple products, and a system of when you're supposed to apply everything. They've made it easier with this,
The Hype
There's hype surrounding any and all anti-aging products. Anything offering to help you look younger is hyped because many of us are trying to fight the signs of aging and turn back the clock. There are so many products out there that flop in this industry, so it's a matter of either trying a bunch of them and putting up with the bad in order to get to the good, or sitting idly by and let time have its way with you.
The Cost
This is where it gets interesting with Exfoliare. They don't disclose just how much it actually costs. All they want you to do is pay $4 to have a one-week sample sent to your home. That's all that's shown on their website and we were unable to find out how much a one-month supply is, or how much it costs if you want to order more.
The Commitment
They say this is for those people that are on the go, and don't have time to waste on an elaborate anti-aging system. It's actually a 4 step process, but that includes such simple steps as rinsing the product from your face. It's all self contained in one product, so there isn't a lot of confusion about what to use and when.
Evaluation
Exfoliare lists just four main ingredients in it: aloe vera extract, carbamide, orange oil, and hyaluronate. These ingredients by themselves have been used in beauty and skincare products for some time now, so it's no surprise that they're being used in a product like this. We're not quite sure why they're pitching this to women that are "on the go" since most will likely end up using this at home as part of their morning or nightly routine.
We wish they would include more information as to what you're actually signing on for here, because every offer we've seen like this has a catch. Usually if you sign up for a one or two week sample or trial and you have to pay for the shipping they end up sending you the full size of the product once your trial period has ended. In this case they make no mention of it, and we scoured their site pretty thoroughly. This means one of two things: either there is no catch and they have faith in their product and know that X amount of people will reorder, making it worthwhile to send out as many samples as possible. Or they are being misleading and not disclosing the full details of the sample offer.
Final Exfoliare Review
Exfoliare is getting our Risky Try rating, since you are expected to give out your credit card information with very little information given about what you're signing on to. Perhaps additional ordering information is sent to you with the sample, and they expect you to like it so much that you'll voluntarily reorder it when it's time.
Our Recommendation
We've been in the review game for awhile now, and have seen dozens of products sold on a trial or a sample basis and ask for a credit card. This is the first one where the fine print does not say anything about recurring charges and shipments after the trial period is over. So this is either a straight up sample offer where you are just covering a reasonable shipping fee, or they are going to bill your credit card without providing full disclosure of the offer details – which the FTC has done a pretty good job of cracking down on in the last few years.
What do you think? Does Exfoliare work or not?