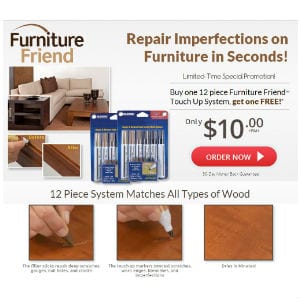 Furniture Friend is a set of touch up markers that are designed to be able to help hide damaged areas on wooden furniture. It also has repair sticks that are meant to work on bigger scrapes and scratches. But how well does this work on actual furniture?
Overview
It can be very frustrating when you get a nice new piece of wood or wood laminate furniture, and the next thing you know it gets scratched or chipped and it doesn't look as good as it did when you originally got it. Without replacing the entire unite it would be nice to have a way to repair it cheaply and easily. That's the premise of these markers. But the last thing you want to do is make the original problem worse, which is a definite possibility if it doesn't do a good job.
The Claim
The makers of Furniture Friend say that it's very easy to use their product, you just use it like a marker to draw where it needs to go, and since they give you an assortment of colors you can color match it to the wood you have so that it looks right.
The Hype
We all like to save money, and if this can help to improve the appearance on a piece of furniture that would be quite expensive to have professionally repaired, it would definitely get the attention of those that are in this exact situation. The hype is really the ease of use due to the marker design, making it as easy as using a marker, which anyone can do.
The Cost
The total cost will come to $26 and you'll end up getting two Furniture Friends kits. Having this many markers might be overkill, since you likely have one piece of furniture that you have in mind to use this on, and it's only going to need one color, and will likely only need to be touched up once. It might be nice to have a backup, and to have all of the other colors in case other furniture needs it in the future, but it's clearly one buy one get one offer where you really don't need the second one.
The Commitment
The big draw to this is that you won't have to commit to having your furniture professionally repaired, and you won't have to replace it either. You will have to do the repairs yourself, but since it's as easy as coloring in the spot with a marker it's not much of a time eater and you should be done in no time.
Evaluation
At the end of the day they're asking for $26 in exchange for some markers. But you're also getting the filler sticks, which are nice for deep scratches and grooves. The main thing you're getting here is the different colors so that you know you'll be covered no matter what color wood you have. There are similar products to Furniture Friend, but this is the first time we've see such a range of colors to make sure that you will have one that matches.
When you're trying to do a touch up job on your furniture, the last thing you want to do is make the problem worse. They say this dries in seconds, which is good if you get it right, but could cause a problem if you don't accurately apply it, and need to wipe it off and start over again. You'll be racing the clock if you get it wrong. Also, there's just simply no need to make this a buy one get one, other than to inflate the price and make it so you're paying a ton in shipping charges.
Final Furniture Friend Review
Furniture Friend is getting our Thumbs Down rating based on the feedback it's been getting from users, the amount they're charging for it, and the fact that they're charging much more for shipping than they are for the actual product. To prove that you're getting fooled by the pitch and the price for Furniture Friend, here's a furniture touch up kit for less than $6 that gets good reviews. Why spend nearly four times as much on a product that doesn't seem to have the same sort of peer-tested reviews?
Our Recommendation
The most you should have to pay for a product like this is $20 and that should include shipping, set up in a way that the product is $15 and the shipping is $5. There's simply no way it costs $18 to ship a couple of packs of markers, and if you do decide to return these in the 30 day window you'll only get $10 back, plus you'll be out the cost of return shipping. They've designed it so they're making a profit no matter how well the product performs, which is always a big red flag.
What do you think? Does Furniture Friend work or not?