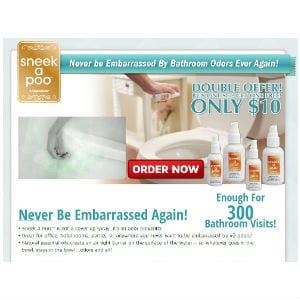 Sneak A Poo is a bathroom air freshener you're supposed to use proactively so that there isn't any odor to begin with. But can it actually work?
Overview
Somebody somewhere must have been doing some consumer research on this to find out that there are a lot of people embarrassed about using the bathroom. This is not the only pre-poo product on the market, and it's a sign that there must be a strong consumer demand for it.
The Claim
The makers of Sneak a Poo claim that by spraying their spray before you go to the bathroom it will create a barrier so that the odors can't escape, thereby preventing that lingering smell long after you've gone. They say it is great to use at the office, or while at a party, and that's just about the only times you'd really have to worry about it. Although it might be a nice thing to have in your home as a way to just not stink it up in there.
The Hype
The hype is that we're all embarrassed about a very natural thing. They've even written a book on it called Everyone Poops which shows how just about everything and everyone poops. But while it may be natural it's just no fun smelling someone else's, or even your own, so in a perfect world it would be nice to just have it come out and go down the toilet without having to have the smell marinate around you.
The Cost
A bottle of Sneak a Poo is $10, which sounds reasonable enough because you get a big bottle and a little bottle for that price. Then you tack on the $8 in shipping and at $18 it's a bit pricey. But that's not all, because you can't order just one set, they'll give you a second set and tack on an additional $8 shipping, bringing your grand total to $26 and leaving you with 4 bottles of the stuff, two big and two small. Sure hope it works!
The Commitment
All that's required on your part is to spray the spray 2-3 times into the toilet before you go. Rather than trying to cover up the smell after it's already there, the idea here is to prevent it from even happening at all. When you compare this to using an air freshener like Febreze after the fact it takes just about the same amount of time, but the theory is that it works better because the smells never get a chance to linger throughout the room.
Evaluation
The concept behind Sneak a Poo is similar to Just a Drop, which uses a liquid that you are supposed to drop into the toilet before you go. Both products got mixed reviews and it's not surprising to see why. It would only work under ideal pooping conditions, and unless you have a perfect digestive system you can't guarantee that everthing will go smoothly in there.
The concept sounds good, but there are plenty of pooping instances where this will not help the smell. If have have a hanger that just won't drop it's going to stink up the bathroom while it hangs, and there's simply not much you can do about it. There are also times when the poop hits the bowl and does not just go right into the water. The only times this would work if it works at all is when you have it go right into the toilet as planned. If you have a stomach flu and have diarrhea, forget about it, this isn't going to save you.
Final Sneak A Poo Review
Sneak a Poo is getting our Risky Try rating. It's worth waiting on a product like this to hit the store shelves so that you don't have to pay so much for it and so you will be able to return it for your money back in case it doesn't work for you. Let's say you get this and you find that the results are less than desirable. You can either keep it and eat the $26 loss or you can return it, pay whatever it costs to ship it back, and they'll only credit you back $10. So at a minimum you'll be out $16 plus return shipping fees. Not a consumer-friendly offer.
Our Recommendation
In the off chance that this does actually work, why not just sell it at a fair price that brings in a profit and rely on repeat business? $10 was the right price, but $8 in shipping is simply too high, and inflates the purchase price. Also, why send so much product on an initial order, why not let people try it out first to see how they like it and then decide to order more when they see it works. Nothing about this offer sounds like a good deal at all.
What do you think? Does Sneak A Poo work or not?