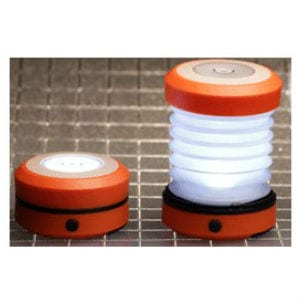 The Pocket Lantern is a handheld light that opens up like an accordion so that it works like a mini lantern, but can fit in your pocket. It's supposed to be using LED lights so it's lightweight and it can be sued for a long time, but how well is it working in the real world?
Overview
Lights are big business and they seem to be putting them on more and more products. They've even managed to make slippers that have lights in them, and have replicated an old school lantern giving it modern light bulbs. We just love our lights, blame the stubbed toes in the middle of the night or a lingering childhood fear of the dark, we've gotta have 'em!
The Claim
The makers of the Pocket Lantern say that their light is way better than holding a flashlight all day long, but most of us will not hold a flashlight all day long, so that is not really an accurate comparison. They also say that it uses super bright LED technology, and that it can be used as both a lantern and a flashlight, depending on what you need it for. They say it folds up and unfolds like an accordion so that you can use it wherever you need it, and that it will go with you much easier than other light sources.
The Hype
The big pitch here is made through the infomercial, which of course will try to make the problem seem bigger than it is while at the same time making the solution look as good as it can. They show the different uses you might have for a pocket sized light.
The Cost
The cost starts off at $10 and then quickly goes up from there. There's an additional $7 added for shipping, and an additional $7 added for shipping on the "free" second unit, so you get two of these for $24 shipped to your door, or $12 each. Not really a bad price per unit, but with the kind of craftsmanship we're seeing with this they'd be better priced at less than $10 each, and that's just in order to remain competitive with other lights on the market.
The Commitment
Compared to using a flashlight this does look a bit easier, and instead of having to use a big bulky lantern, even one of the newer models that uses LED lights, it would be easier to use something light like this.
Evaluation
The idea is a good one, since it really does look like it provides the same sort of lighting that a lantern does, the 360 degree kind that illuminates a room without a beam like a flashlight. It's also the right size, being able to fit right in the palm of your hand or being hung where you need it. You could keep the extra one in the car for roadside emergencies. There really are a bunch of uses that it would be good for, as long as it works. We have our doubts about how well this would actually perform, as it looks like it's made from cheap plastic, and could fall apart with repeated use.
They say that the bulbs it uses will last over 100,000 hours, but keep in mind that the batteries it uses likely won't. So you'll have to replace the batteries as needed, and there is the possibility that the light wouldn't work for you the next time there's a power outage or you really need it. Be sure to keep spare batteries for it if you'll be using this for emergency purposes.
Since the product is so new to the market, there isn't much in the way of user reviews on this, and it might likely stay that way because this just doesn't look like a smart buy. The idea is good, but the price is wrong, and the fact that you can't return them without absorbing a loss is enough to put the kibosh on this one.
Final Pocket Lantern Review
The overall rating we're giving the Pocket Lantern is a Risky Try. This is because the quality of it is suspect, it looks like it might have been rushed through the manufacturing process to get to market more quickly. For $24 for two of them you're taking pretty much all of the risk that these will work exactly as described – that's the only way it would be worth it – and if they don't you're out a minimum of $14 plus the cost of shipping them back.
Our Recommendation
There are plenty of LED lights available at supermarkets and places like Home Depot that you don't have to pay silly shipping charges on, and you can return them if needed. Or perhaps check out this awesome handheld LED flashlight that gets stellar reviews and costs less than a cup of coffee at Starbucks.
What do you think? Does Pocket Lantern work or not?