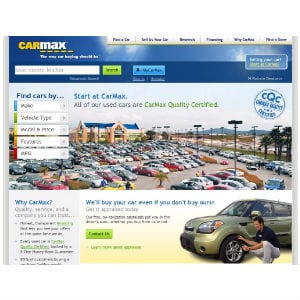 CarMax bills itself as the best way to buy a car because they offer no haggle pricing, and their cars go through a rigorous evaluation before being sold. It's also a place where you can sell your used car, even if you don't want to buy a new one. But what are real people saying about what it's like to buy or sell a car with them?
Overview
The car buying process can be a real pain, you never know what you're getting when you buy a car from the owner, or from a random used car sales place. They could be trying to hide any number of problems with the car, or could be trying to take advantage of you on the price. You can do things like check the Kelley Blue Book value on it, or get the CarFax on it, but there's just no way to fully know if you're doing the right thing or not, unless you're a mechanic or a close friends with one.
The Claim
The claims made by CarMax about their car buying experience are that their cars have passed a 125 point inspection before they even make it onto the lot, that they'll buy your car even if you don't buy one of theirs, that the prices are set at fair and reasonable points so there's no haggling involved, that you have 5 days to return your car after you purchase it, that their financing is flexible and transparent, that their salespeople receive fixed commissions, and that
The Hype
There isn't too much hype being used by CarMax in their advertising, and all of their claims can be easily verified by simply going through with the process and seeing for yourself that they do what they say they'll do. There are of course some complaints about them, with some saying that they don't fully inspect the cars as claimed, and of course others complaints about the process itself, but that's mostly because they move a lot of cars, and when you sell that many of anything you're going to have some people that don't like how it all went down.
The Cost
There aren't any extra costs associated with doing business with CarMax, aside from the fact that they'll charge slightly higher prices than you might otherwise pay if you were able to negotiate it with a private party.
The Commitment
You're not being pressured into a sale here, and they give you a 5 day window to see if you made the right choice or not. That's plenty of cooling off time so you can feel good about the decision you made. If on the 5th day it's just doesn't feel right you can take it back in and they'll undo the transaction. That's a nice bonus that makes it so you don't have to fully commit to the purchase until you know you're satisfied.
Evaluation
There is definitely a need of more used car sales places that want to do business on the up and up and at reasonable prices. That seems to be the case with CarMax and from what we've seen they do a good job on delivering on their claims. They really won't haggle with you on the price, which some savvy negotiators might not like, but others that don't really like the idea or aren't really good at negotiating might find soothing.
There's also the ability to choose a car that's not on the lot you're at, and you can look at any car across the country and pay a pretty reasonable fee to have it shipped over. This really widens the net and increases the chances that you'll find a car that suits your tastes and budget. If you've had a bad car buying experience in the past, this may be just the solution for you.
Final CarMax Review
Overall, CarMax is getting our Thumbs Up rating based on the feedback it's gotten both from actual buyers, and from very experienced car buyers. It's important to realize that you're going to be paying a little more for the car than you could if you found the same make and model with the same stats elsewhere, but that seems acceptable when you factor in that you don't have to worry that you're getting duped, and you can get a decent price for any vehicle that you're trading in. By not haggling you are pretty much letting CarMax dictate the price, but when you find a car you like at a price you can live with the rest of the process is smooth sailing.
Our Recommendation
The reason CarMax gets so many people on board with its service is that there are so many instances of used car buyers getting fleeced, or hosed, or otherwise taken advantage of. In many instances you're basically buying someone else's problem when you buy a used car directly from the owner. There's some reason they don't want it, and they're just hoping you don't find out what it is. You can always bring along your own mechanic to inspect the car before you buy it, but are they going to give it a 125 point inspection? Probably not, and there would be even more investigation necessary, like if it had ever been in an accident or a flood. For all of that hassle it just seems to make sense to pay a little more and avoid it all.
What do you think? Does CarMax work or not?