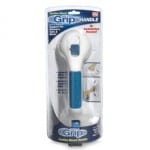 If you have an aging parent, or are a baby boomer that's finding things harder to do, you might be interested in Get a Grip. It's meant to provide that extra hand you need when getting into and out of, and off and on, certain things around your house. It seems we've all had times where we needed that extra hand, and that's exactly what's promised with this invention.
Overview
Some of the more popular places where you need a handle are located in the bathroom. The shower is one danger area where it's always nice to have something extra to hold onto. Also, getting onto and off of the toilet can become a problem as we get older. Many bathrooms have tiled floors, making it slippery and making a handle even more important. It gives you the added support and helps relieve strain from other muscles when standing up or sitting down.
The Claim
Get a Grip says that all you have to do is secure the handle in place and it will provide a sturdy grip for you and not slide around or fall off. It's true, a handle is only good if it stays in place. They also say that you can stick it to any smooth surface, which isn't a problem in most bathrooms because of the tiles and fiberglass. A few snaps of the buttons and you're in business.
The Hype
There's not too much hype in regards to Get a Grip because the problems it addresses are real. The bathroom can be a dangerous place, and the other suggestions they have for how you can use it are actually pretty clever. People do need help getting into and out of their boats and RVs, and since it can attach to most any smooth surface there are hundreds of places you could use it. Plus, it comes off easily so it could travel with you for use at hotels, or when staying with family or friends.
The Cost
Get a Grip costs $15 including shipping, but they make you order two of them so your total cost will come to $30. They offer a money back guarantee, so if you're not satisfied you can just sent them back and be out $10 plus whatever it costs to ship them back. If you just want one you can get it for less than $10 with shipping included from Amazon.
The Commitment
There isn't much in the way of committing to Get a Grip, you just install it and it should do its thing. It's not a very complicated product, so you don't have to worry about a lot of movable parts to figure out. Since you get two of them, you'll have to figure out where you want to place them in the most strategic ways possible.
Evaluation
Get a Grip uses a simple suction mechanism to make it stick to smooth surfaces, but adds a button to it so it's easier to pop off. The feedback from actual users says that it works just like it's shown to. Of course there are some that disagree and say that it didn't work, but they are outnumbered by the people that say it does. Perhaps they got a defective unit, or did not follow the directions properly, and they can be chalked up to user error.
Final Get a Grip Review
While this may not be the most remarkable product you'll ever find, it doesn't need a lot of bells and whistles to get the job done. The price is reasonable, and the product functions the way it's claimed to in the infomercial. Sometimes it's the simple products that really come through and do as they say. In this case the makers of Get a Grip got it right, and you can order with confidence.
Our Recommendation
If you or someone you love is having trouble in the bathroom, either in the shower or when using the toilet, Get a Grip can be very helpful. Because of its double suction design it's very sturdy and stays in place even with a lot of force applied to it. It basically has to work every time or you wouldn't trust it to support your body weight. Test it out in your own home and you'll see that with repeated use it stands the test of time.
What do you think? Does Get a Grip work or not?