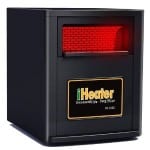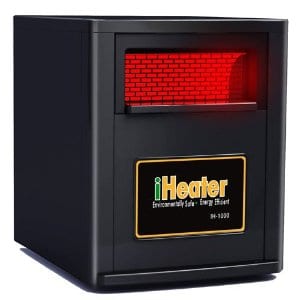 The iHeater claims to be able to heat a room for a cost of about a dollar a day. For many people this is a sharp reduction in the amount of money they spend on heating costs through the winter. You might think that this is made by the Apple Corporation but it's nothing like an iPod or an iPad. However, the amount of technology used in this portable heater is pretty impressive.
Overview
Up until now there hasn't been a really great way to heat a small room in your house. Heating systems that heat the entire house are overkill when it comes to just one room. Conventional space heaters leave much to be desired in the amount of heat that they produce for the energy that they consume, not to mention how loud they are. The iHeater promises to fix all of that with just one unit.
The Claim
The iHeater claims that it uses infrared technology in order to heat the room which uses less energy, and creates more heat using less resources. This makes it seem like the best of both worlds by providing more heat for less cost, and doing it all more safely and quietly.
They also say that no matter how much heat your iHeater generates you'll be able to touch it without burning your finger due to its infrared technology.
They also claim that it's whisper quiet, which would be a major improvement over the other types of heaters, which can make a racket. In fact, some heaters are so loud that you can't even watch TV without turning it up, or have a conversation without talking over them. Plus, the more you use a space heater the louder it becomes as it wears out.
They say that it heats a room evenly, which if you have any experience with a conventional space heater you know that it heats the area immediately in front of it first, and then the rest of the room receives any residual heat. Traditional space heaters can leave large parts of a room cold and drafty, and just a small area heated properly.
The Hype
There isn't much in the way of hype when it comes to the iHeater. Heating your house in the winter can be expensive, and the normal ways that people have of heating their home are outdated and laden with problems. The promotions that they run for the unit are mostly hype-free, basically stating what it can do for you, but not going overboard exaggerating the claims and making the problem seem worse than it is.
The Cost
The iHeater isn't cheap, and you can get conventional space heaters for far less money. It makes its sale by how much it will save you and your monthly heating bill compared to other models. When you factor in multiple years of use, the cost savings really add up.
That being said, you can get the iHeater for $250 delivered right to your door from Amazon.com. You may also order direct from the manufacturer for some added bonuses, and also as a guarantee that you're receiving the most recent model.
The Commitment
Committing to using the iHeater is a breeze. All you have to do is turn it on to your desired setting, either small, medium, or large-sized room, and let it go to work. You can use it as a replacement for your current ineffective space heater, or cut back on using your central heating system when you only need one room heated.
Evaluation
There are some pretty bold claims to live up to, so we had to put the iHeater to the test in real world situations. Users have reported that the iHeater does provide comfortable warmth throughout the room, and that you can stand right next to it without burning yourself, it won't start a fire if it gets tipped over, and that it's safe to have around kids and pets.
When comparing the cost of running the iHeater with conventional heaters, and whole house heating systems the cost savings are obvious. Most people report a 50% reduction in their heating bill, while others who use it more extensively reported a savings of 75%. These are numbers that you can't argue with as far as savings go. The savings can be used for more important things in your life instead of going down the drain in your heating bill.
This can also be considered a green product because it reduces the total amount of electricity that is used to heat a room, it's better for the environment overall. No matter what your reason for getting an iHeater it's nice to have a product that not only saves money, but is better for the Earth.
Final iHeater Review
The reviews are in an the iHeater clocks in as a winner. It's major features are that it can heat a room much more cost effectively than using your old space heater or your central heat and air system. Also, buyers said that they liked that the air was cleaned as well, and not just re-circulated.
Our Recommendation
If you've got a small to medium-sized room that needs heating, you can't go wrong with an iHeater. Our favorite feature is that it's safe for your home and you don't have to worry about your kids or your pet bumping into it, knocking it over, or touching it. You can't say that for other space heaters, not to mention the fact that it's super quiet.
What do you think? Does the iHeater work or not?