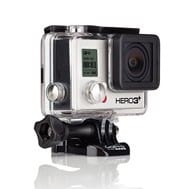 Taking good pictures is something that a lot of people like to do all year around, but during the summer months even the amateur camera buffs like to extend their experiences, and tend to take a look at better cameras like the GoPro Hero3+, but do cameras such as this really make that much of a difference?
Overview
There are several GoPro cameras and accessories but this particular model is touted as being efficient, easy to use whether you want to wear it around your neck for that special camera catching moment, or mount it for those more planned photo shoots. Some of its appealing features are its lightness yet has reduced distortion and increased sharpness.
The Claim
The claims made for the GoPro Hero3+ camera is basically the same for all of the GoPro products. The promoters are standing on its light weight yet impressive capabilities. One of its most touted features is its Super View which is the video mode, and its low light capabilities which is often an issue with a lot of camera buffs.
The Hype
In order for the hype to be successful in respect to any camera it has to address the needs of both the newbie camera user as well as the experienced. What they all have in common is a unit for taking pictures that is going to give them lots of options, yet easy to operate and to learn. Everyone wants the perfect picture to capture the moment. The GoPro promoters have met this need at least in regards to addressing the wants and needs in their marketing materials.
The Cost
If you purchase this unit directly from their site you will look at paying $399.99 however if you purchase the GoPro HERO3+: Black Edition
via Amazon then you can get it for the same price with free shipping, but also might have the opportunity of picking up a used one or one that has been refurbished for a lesser price.
The Commitment
Any time you are thinking about buying a quality camera such as this you are going to have to dedicate the time to first learning all of it functions then practicing with each of these. One thing about photography is that practice makes perfect. Fortunately camera makers are really striving at making their products more compact and easier to put into action and the GoPro Hero3+ is no exception.
Evaluation
For the price this camera has all of the capabilities of stepping up your photo production to a better level. However, if you are going to make this type of investment then you have to be ready to commit yourself to using it to its fullest capabilities. If you are not one that wants to spend a lot of time using photo editing software then this may be the answer for you.
Final GoPro Hero3+ Review
We are going to give this camera a thumb up rating, mostly because we trust the feedback of those that have purchased it and used it. It has a lot of positive reviews and presently holds a 4.5 out of 5 star rating which is very good for this type of equipment. No product is purchase and this camera does come with some challenges.
Our Recommendation
If you find that your interest in photography is really beginning to grow then the GoPro Hero 3+ camera may really be the ideal choice for you to assist you with your picture taking skills. It has all the bells and whistles that you may be looking for, yet the simplicity of use. If you are looking for something for just taking decent pictures without having to make a substantial investment then you may prefer to go with a more on the go picture taker.
What do you think? Does the Go Pro Hero3+ work or not?