A great many people who never thought they would become camera buffs have been drawn into the ease in which they can capture the moment through the use of the camera feature of their cell phone. This for many has spurred a real interest in photography and is leading them to look at other products like the Pocket Cam. The question is though, does a product like this lead to disappointment for the budding photographer or push them onto greater enthusiasm?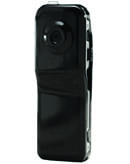 Overview
The Pocket Cam is a miniature camera that is designed to catch the fast action of the day by clipping it on to almost anything where the action is going to take place. This has an exciting concept about it because at first glance it looks like it is capable of catching the excitement on the fly.
The Claim
The company claims that their camera can capture hours of action video that wouldn't be possible to get with a hand held camera.They state that this 2 inch version of a high powered camera has incredible audio video and recording capabilities.
The Hype
The company has addressed a few of the important frustrations that come with the cell phone videoing which is often the clarity these types of cameras provide. Marketing material for this unit contains hype words like high quality, versatile,hours of action capturing. This just about covers everything that one would want and expect in a action orientated image camera. Then to really sweeten the concept they are offering it a reasonable price.
The Cost
You are going to pay about $28. which includes the $8. shipping charge. For an extra fee of $9.99 you can get the pro shot action kit which includes the swivel mount, dash mount,shirt clip and lanyard.
The Commitment
As with any camera you are going to have to learn how to master it. While it may come packed with all the features of the bigger cameras that doesn't make it any easier to perfect your photography capabilities. Before making final judgement on the results of this device make sure you follow all of the instructions and practice.
Evaluation
We had to look at the Pocket Cam with some skepticism. With the Pocket Cam remember, we are most interested in its video capabilities because that's what it is made for. The biggest concern with action photography is achieving sharp crisp images without the blur. Now when you look at the promo video of this product it claims to have caught the skate board action with the Pocket Cam. If this is the quality you are able to achieve when you use it then you would probably be happy with the price you paid for this product. We haven't done a lot of reviews on image capturing for either still or video. Although we did try to address some of the problems that many people face when taking images with their smart phones in our review of the Pic Stand.
Final Pocket Cam Review
We are going to give the Pocket Cam a solid Try/Buy rating, and here is why. While the camera is being offered at about $28. you still need to pay approx. another $10. to get the accessories that allow you to make the most of this device. Then on top of this the Micro SD card is not included. We wanted to take a look at a similar product which led us to looking at the Vivitar DVR 410N. While this is a brand name it is slightly cheaper although it doesn't have all the clip on features, and it seems as though there is a lot of disappointment in the clarity of the images produced. We did come across another pocket size cam recorder similar to this one being sold in the UK at a much higher price.
Our Recommendation
The important thing here is to remember that you are basically going to get what you are paying for. If you set your expectations properly then you probably won't be disappointed. If you are looking at this as a fun product that you can utilize to capture some okay clips then you probably won't be unhappy, however if you are looking at video capture in a more serious way then you may want to check out some of the higher caliber products on the market.
What do you think? Does Pocket Cam work or not?