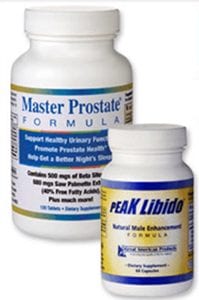 Just like women, men have their fair share of newly developed ailments to deal with as they grow older. One of these is the dwindling status of their prostate health which often comes with urinary function disorders. In other words, they now have to get up through the night for a trip to the bathroom which they find most frustrating. This begins the quest for a solution, so is Master Prostate what they are looking for? Let's find out.
Overview
There are several supplements on the market geared towards helping men deal with these prostate issues that now are affecting their lifestyle. This means that each product has to have something unique about it in order to make it stand out as the best. How does the potential user really know which one to use, and how can they avoid hit and miss trying of a whole bunch of products? Master Prostate has formulated their product with what they believe are 12 key ingredients to prostate health, and really zero in on their double quantity of Beta Sitosterol.
The Claim
The company claims that all that is needed to promote prostate health, and get those frequent trips to the bathroom in check so you can get a good night's sleep, can be found in there all in one formula of nutrients in one natural dose. They claim to be superior to other brands and back this up with their ingredient list. While this is impressive it would appear that these comparisons have been made against one single other product, without naming who they consider as the leading brand to do the comparison against.
The Hype
Being as this is a competitive product, the Company's approach to capitalize on the prostate hype is to first choose to focus on one of the ingredients that they feel is the most effective, which is the Beta Sitosterol. Then they have used their bonuses to reach out to other potential needs. These include a failing libido which can come with the aging process, and one of the bonuses appeals to the anti-aging which is certain to zone in on the interests of many men who are not keen on the thought of getting older.
The Cost
After your free 30 day trial it is going to cost you $39.95 every 30 days for the Master Prostate. Your free 30 day trial consists of you receiving the product, plus a bottle of the Peak Libido, and the book "Anti-Aging" and You" with only paying for the shipping at the time of your order. At the end of the 30 days if you do nothing, then you will be billed the $39.95, and each month there after as you receive your replenishing supply. If during the 30 day trial you decide this product isn't for you then you must call the service department to cancel, but you get to keep the initial order which includes the two bonuses.
The Commitment
Using Master Prostate for your prostate health is going to require you to take the recommended dose which is two tablets in the morning and two at night. You are going to have to dedicate yourself to this time schedule if you want to achieve the full potential of what this product claims to be able to offer.
Evaluation
Being as the big factor of this product is the quantity and number of ingredients, it meant we need to first take a look at some of these so we wanted to check out the Beta Sitosterol. We believe a good source for information on this ingredient is webmd. We liked the fact that there are indications that this ingredient may help to reduce prostate inflammation, plus it may have some additional health benefits.However, careful review of the information will also tell you that it doesn't have a lot of supporting evidence as to the main claims that are made concerning beta sitosterol.
Final Master Prostate Review
We are going to give the Master Prostate a solid Try/Buy rating. Our review of the beta sitosterol leads us to believe that this may be a valuable ingredient that can at least help with the reduction of the frequent trips to the bathroom caused by aging, plus may be helpful with libido at the same time. Then added to this we liked the fact that another ingredient that is also showing some promise is included in the ingredient list which is the saw palmetto. We did a review on the Super Beta Prostate product which is high on saw palmetto as well. You may want to compare this product with the Master Prostate and do a little ingredient research yourself to see which appeals to you.
Our Recommendation
Having increased trips to the bathroom, and a dwindling libido is part of the aging process but not issues that you just have to accept with no hope of improvements. What is important however, is that first you check with your health care provider to absolutely determine that these prostate symptoms you are experiencing is definitely coming from the aging process and not something more serious.
What do you think? Does Master Prostate work or not?