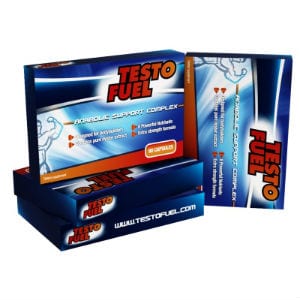 The makers of Testofuel says that it's undergone plenty of research, and that it can provide the sort of testosterone boost that steroids provide, without the harmful side effects. There is definitely a link between testosterone and muscle production, so the question is does this work to boost your levels?
Overview
The recent trend among bodybuilders is to make sure that they're getting enough testosterone. It's been understood that this is a key component in having enough energy in the gym to give it your all, and there has been plenty of use of steroids and other supplements designed to get you to lift more than you typically could, sparking more muscle growth than you could achieve naturally.
The Claim
The main claims made on Testofuel is that it can help your body produce more testosterone on its own. This would mean that it's coming from a natural source, and not just a matter of adding a synthetic testosterone to the system. They say that the result is that you'll have more growth than you otherwise would, larger muscles, and more energy. They also say that after working out you'll be able to recover more quickly, leading to less down time, which only speeds up the results even faster.
The Hype
Anytime you promise more muscle to guys that want to get bigger, you're involving some hype. That's a strong desire, and often leads to a purchase as long as you have an attractive product. In this case the product comes in pill form, so it makes it very easy to take, and the thought of getting bigger muscles just by taking a pill is one that a lot of men can't resist.
The Cost
One month of Testofuel is $69. They have it set up so that the more you buy at one time, the less you'll pay per box. The best prices can be found by getting four boxes at once for $209 which breaks down to $52.25 per bottle, which also nets you some bonus items like a t-shirt and some e-books.
The Commitment
All that you'll need to do is take the pills as directed, and then go work it out in the gym as best as you can. Some users have said that the results take a few weeks to kick in, so it's important not to jump the gun on this one and start looking for results too soon. This is a 3 pill per day regimen, so you'll want to make sure that you don't miss any doses so that you get the full effect from your efforts.
Evaluation
Getting accurate feedback on a product like Testofuel can be tricky, because bodybuilders are generally taking more than one supplement at a time, so it's hard to establish which one is providing the results. Also, it's not as if there's a control group involved when you're looking at personal experiences. It's just one person saying whether or not it worked for them. Not very helpful, since there are too many unknowns.
One nice feature is that this is stimulant free, so while it may help you to lift more in the gym, you won't be left lying awake at night wondering why you can't get to sleep. The claim that it helps to reduce the amount of body fat, even around the stomach area is interesting, as many times a spare tire is thought of as something men develop as they age, and could be a sign that your testosterone levels have dropped. They also state that you'll be able to revitalize your sex drive, and this is often brought up as a side benefit or the main benefit of improving your testosterone levels.
Final Testofuel Review
Testofuel is getting our Solid Try rating. It's worked for some, but not for others, which is to be expected when you're dealing with so many different body types, and so many different expectation levels. The fact that it worked for some users is reason enough to believe that it can work under the right conditions. Of course we did not factor in the obvious bogus reviews from those simply trying to make a referral commission, and only based our decision on real user feedback.
Our Recommendation
There's no one product out there that will get you the body you want, which is why so many strength trainers are using a combination of products to produce the desired results. It's really a matter of finding out what works for you and your body type in relation to your goals. Keeping safety in mind at all times is important, and the ingredients used in this product are naturally sourced, leading to less of a chance of a negative reaction, but it is still possible. Always check with your doctor before starting this or any other supplement.
What do you think? Does Testofuel work or not?