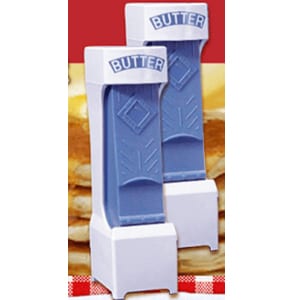 Its barbecue and outdoor entertainment time, so who wants to spend hours cooking? This means finding any little kitchen gadget that is going to make food preparation a breeze is something worth looking at. Just a simple item like Ez Butter could make kitchen life a little bit easier. That is of course if it works.
Overview
How many times have you struggled with the butter dish trying to keep it from looking messy and the butter ending up with all kinds of additions like other food? This is a common household complaint, like who left the crumbs in the butter? Well with the Ez Butter you just might have a nifty solution. This simple kitchen aid allows the user to dispense one pat of butter at a time. It holds one stick of butter and all it takes is one click to get the perfect pat of butter.
The Claim
The company claims that loading the Ez Butter is really simple. You just unwrap the stick of butter or even margarine if that is your choice and drop it into the dispenser. They say it will deliver the perfect portion with just one click and that once empty the unit is easy to clean as it is dishwasher safe.
The Hype
Basically the hype addresses what most people want in any type of kitchen gadget. It has to be easy to use, easy to clean and affordable. They have taken it a step further because they have addressed the fact that the Ez Butter is easy for both young and the elderly to use.
The Cost
For your first Ez Butter you are going to pay $17.95 and if you want a second one then you just need to pay an extra $4.95 which is for the shipping and handling.
The Commitment
It is actually going to put less demands on your for serving your butter than the traditional method. The old way means you have to unwrap the butter then put it in the butter dish, and remember to take it out of the fridge to soften enough for use. With the Ez Butter dispenser you still unwrap the butter and stick it in the dispenser, but you are not going to be constantly cleaning it like you do with the butter dish after each use, and it is ready to use directly from the fridge.
Evaluation
Such a simple food product as butter can really create some kitchen hassles and even spur on a few family arguments. In fact, the need for the perfect butter dispenser has really been addressed by a variety of companies, so the interest is there. Perhaps a simple product such as the Ez Butter gadget can put an end to the messed up butter, or the too hard to cut butter when it is forgotten to be taken out of the fridge.
Final Ez Butter Review
We are going to give this product a Thumbs Up rating. It really does address a lot of butter issues. One thing that we really like about it is it can help to reduce the use of too much. All too often when we are about to take a portion of butter from the traditional butter dishes we take too much because we don't want to double dip, and be the guilty one of messing up the whole stick of butter. This gadget allows for an average size use. We also like the fact that it can actually be a multi-purpose gadget. The company says it also works well for other food items like cucumber,cheese or sausage for example. If you use your imagination you could probably find multiple ways where this product would come in handy. We think it might be good for putting some of these other items in then putting it in the cooler when you are off to a picnic.
Our Recommendation
This appears to be a new product to hit the market so only time will tell just how effective and well received it is. Probably the one thing that will have to be observed is how long it will provide those perfect portions. It is a reasonable price so even if you were not totally happy with it you have not blown a fortune and you could take advantage of the money back guarantee. While it is easy to get caught up in nifty gadgets such as this you still need to get past the hype and really determine if it something you really could use or is just something you want because its different. If it is the unique that you are looking for and something that might start up a dinner conversation when using it then you may want to look at this cool kitchen gadget.
What do you think? Does Ez Butter work or not?