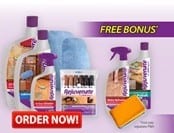 Everyone likes their home to look its best, and sometimes this isn't possible because big components like the floors or cabinets become worn from use, and no matter how often you clean them it just doesn't make them look good. This is disappointing, but there might be a really affordable solution for these two problems and it may be the Get Rejuvenate product.
Overview
Get Rejuvenate is a group of products that can be used to clean and coat your floors to help reduce some of the wear and tear that makes them look unsightly. It may be an ideal solution for those times where your floors really could do with replacing but with a little help from the right products you may be able to get them presentable again. The products consist of a floor cleaner that cleans the floors properly for the application of the next product in the package which is the Floor Restorer. Although you can use the floor cleaner on a regular basis as well, as it is not just used as a pre-treatment.
The Claim
There are several products contained in the promo package being offered and they each have claims being made about them. They state the floor cleaner will remove all residue from the floors, and that the floor restorer will give a showroom shine to all types of floors. There are additional products that are to be used for cabinets and furniture which will give similar results.
The Hype
The low cost of being able to get your floors, cabinets and furniture looking decent again really is what the promotional hype focuses on. Then in addition to this is how easy it is to use. This means its a time saver as well, and this is appealing to many people who really want a quick and easy solution to making these items in their home look better, without having to spend huge bucks at the moment to have them replaced.
The Cost
You are going to pay about $30 which includes shipping and handling for the core products which are the floor cleaner and floor restorer, plus the wood floor and furniture repair markers. Included with this you will also get the microfiber mitt and mop bonnet and the cabinet and furniture restorer. Now if you want to add about $10. more to the order as a bonus you will also get the floor shine refresher,kitchen and bathroom counter top polish and the chamois & microfiber polishing pad.
The Commitment
If you go for the full deal then you are getting a lot of products which means you are planning on doing some substantial work around the home when it comes to touch ups and cleaning for the type of results that make a difference to your efforts. You really are going to have to commit to putting each and every one of these products to their full use if you want to make your investment worth it.
Evaluation
There are loads of products on the market that promise to give your floors, cabinets and woods a new look. They also range in price and often as consumers we think that if a product costs more then it is going to be better. This is not always the case. With the Get Rejuvenate products the company says they are comprised of 51 patented polymers. So they are giving you the main components of why you can get the results they are promoting.
Final Get Rejuvenate Review
We're going to give the Get Rejuvenate a Thumbs Up rating. We came to this conclusion first because they have received a lot of favorable feedback. One of the most common problems with floors is that they get scratched easily from pets constantly walking across them. Some of those who bought this product said it was great for camouflaging this type of damage. Next we like the fact that the product contains polymers which we believe allows for more durability to finished results rather than other types of temporary fillers like waxes. We look at this product as being a good possible solution for those who want to have the applicable items looking decent, but don't want to go to the time and expense of replacing them. It may be ideal for the cottage or for those who are renting their premises and don't want to put a lot of money into restoration.
Our Recommendation
Anything that is going to make your cleaning and upkeep of your home efforts less expensive and easier then we are all for it.
Official Website: Get Rejuvenate
What do you think? Does Get Rejuvenate work or not?