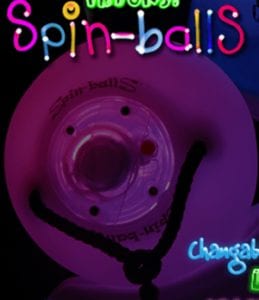 There are a lot of reasons why during the spring/summer season a lot of people are looking for good but inexpensive outdoor type toys for the kids. Usually anything that consists of bright lights and lets them show off their creativity is a big hit, so we decided to share an interesting product called the Spin Balls with you.
Overview
On those warm summer nights the kids just love to be outdoors. For this reason flashlights really become a popular item but the Spin Balls far supersede this type of light enjoyment. These are comprised of LED lights that the kids can spin around to make all kinds of novel patterns. They love to try and outdo their friends with a nifty light show, and they are also great for daylight use as well.
The Claim
The Company states that their spin toy is combined with the ancient art of Poi. Poi is a performing art where talented people have master the art of tethering weights with various designs and actions. The marketers of Spin Balls say its user can produce amazing light tricks with their product.They say it is easy to learn and do, and the product is adjustable for the different sized users.
The Hype
The marketing material appeals to the kids who want to be creative and be able to advance in their expertise. The fact that they are lights which makes their moves all the more impressive is a great selling feature. For parents it is not an expensive item nor does it take up a lot of storage room when not in use. The real bonus is when the kids are out in the dark and using these spin balls you can see exactly where they are.
The Cost
If you are willing to invest about $28. you are going to get two spin balls,the bonus spin tails, and a carrying case. It also comes with an instructional DVD.
The Commitment
You of course are going to have to entice the kids to watch the DVD so they learn the full use of this nifty toy. In fact, you may want to order two sets because kids really do love company when playing and they have a competitive nature. So you may find yourself competing against your young one as to who can perform the best light tricks.
Evaluation
When we look at the Spin Balls it brings to mind the old favorite toy called the yo-yo, but with a real twist. It is easy to perceive that this toy could become a real craze in your neighborhood. Even if you don't have children of your own, you may want to keep a few of these spin balls tucked away when you have company that bring children along with them.
Final Spin Balls Review
We are going to give the Spin Balls a solid Try/Buy simply because they first are a basic well loved kids item which is a ball. Then added to this is the light feature. Another product that is geared towards the kids, and also is based on lights that is really popular is the Coolglow sunglasses. So we are assuming the Spin Balls will be a hit too.
Our Recommendation
This could potentially be a toy that entices the whole family to join in on the fun. It certainly helps to relieve the nighttime boredom and provides a safe play alternative when the kids want to be outside at night. It is also a great alternative to getting the kids away from the video games and television and doing something that is kid healthy like exercising.
What do you think? Does Spin Balls work or not?