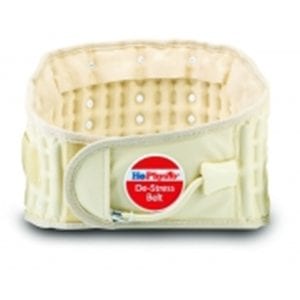 Many people suffer from chronic back pain and discomfort but do not like to use oral pain medication or prescription drugs to help alleviate the pain. Dr. Ho's 2 in 1 Decompression Belt can really help with many back pain symptoms.
What is Dr. Ho's 2 in 1 Decompression Belt?
Dr. Ho's 2 in 1 Decompression belt is a type of spinal decompression therapy that you can do yourself at home.  This easy to use, wearable back traction device is also used by clinical professionals as a back pain-relieving treatment.
How Does the Decompression Belt Work to Relieve Back Pain?
The decompression belt contains an inflation device.
By inflating this, it allows the belt to stretch and traction the lower back. By lengthening the spine through the belt's gentle motion, it relieves pressure on discs that are herniated, bulging, or worn out.
This treatment also allows the spine to receive better oxygen, nutrients, and blood. This process helps in the relief of inflammation around the sciatic nerve and discs.
How Does the Decompression Belt Help to Strengthen and Stabilize the Lower Back?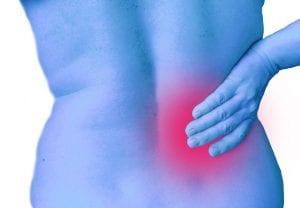 The use of the decompression belt can help prevent spasms and pain triggered by everyday movements.
The belt provides stability around the midsection of your back and can help promote the strengthening of your back muscles resulting in less pain.
Injuries, misalignment can lead to back muscles tensing up, causing stress and back pain.
By inflating the decompression belt, the muscles in your back are stretched, which relieves the pressure around joints, which allows more range of motion and flexibility.
Also, when the belt is inflated, it is raised by 4 inches, which then lifts and supports the weight of your upper body. This decrease in pressure on your lower back, allowing the spine to lengthen taking the pressure off compressed discs.
What are Dr. Ho's Decompression Belt Features?
When using the Dr. Ho's Decompression belt, you will receive clinical-grade treatment without the use of surgery, drugs, and regular doctor appointments.
Decompression
The belt delivers clinical grade traction and decompression. You can use the belt when it is not inflated to help you with your daily activities. However, when inflated, it becomes a traction tool for your lower back. This provides 2 in 1 back pain relief.
Portable and Convenient
This product is portable and wireless, which allows you to use it anytime, anywhere. The belt is available in two sizes: Pant size 0 -16 (Size A) and pant size 17-21+ (Size B) Size B fits up to a waist size of 55".
A Drug-Free Solution for Pain Relief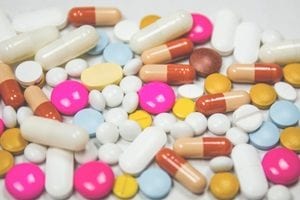 The Dr. Ho's Decompression Belt is a drug-free treatment that helps manage back pain. No drug supplements are required for the belt to be effective. This is a natural solution for pain relief.
Is the Dr. Ho's Decompression Belt Scientifically Proven?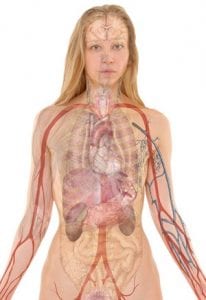 Absolutely. All of Dr. Ho's products are as a result of conferring with many other health care professionals like physiotherapists, chiropractors, as well as scientists.
How Do I Use the Dr. Ho's Decompression Belt?
By following these tips and easy steps, you will be sure to feel a lot of pain relief in your upper and lower back.
Always ensure you buy the correct size belt for it work properly.
The belt should be worn over a light layer of clothing.
The belt must be fully deflated prior to putting it on and is should fit tightly.
A tight fit can be established by sucking in your stomach when you are putting the belt on.
Once the belt is placed on your waist, while standing, inflate it. For the first week, wear the belt between 3 and 4 times a day for a period of 30 minutes each time. This will assist with your muscles and spine, becoming accustomed to traction.
Thereafter, you can wear the belt as long as it is required, but must be worn a minimum of 30 minutes a day for ongoing relief.
The best way to obtain better and faster relief is to lay on your back with the belt on and raise your legs using a couple of pillows.
You can even sleep with the belt on at night if you experience back pain while you sleep.
How Much Does the Dr. Ho's Decompression Belt Cost?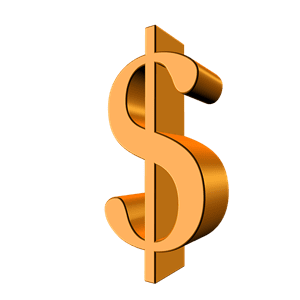 There are 3 Dr. Ho's Decompression belt packages available for purchase.
Package One
The first package is $199.00, which includes Dr. Ho's 2-in-1 Back Relief Decompression Belt plus a Magic heat pad.
Package Two
The second package is the deluxe package costs $299.94 and contains all basic package items plus Dr. Ho's pain therapy system valued at $194.97, 8 small replacement pads, 2 large replacement pads, circulation boosting foot massage pads and a Travel Bag.
Package Three
The third package, The Ultimate, costs $354.99 and includes all items in the deluxe package plus Dr. Ho's pain therapy belt valued at $59.99 and Dr. Ho's therapy belt replacement pads valued at $19.99.
Risk-Free Trial Period
Dr. Ho is so confident that will be pleased with Dr. Ho's products that a 90-day risk-free trial period is offered with all products. If you purchase any Dr. Ho's products and you are not happy with them, simply return them within 90 days, and you will receive your money back minus shipping and handling fees.
Customer Reviews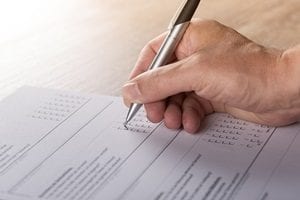 Overall, Dr. Ho decompression belt customers have rated the product 4.2 out of 5 stars, with 85% of customers  rating it as a five-star product.
One verified buyer stated that she used the decompression belt so much because it worked great for her that the inflation device blew a hole. However, she had no problem purchasing another as the first one lasted her several years.
Another verified buyer stated that it helped her so much with back pain that she is recommending it to all his family and friends.
Another customer stated that she has degenerated discs and a back injury from lifting a heavy object causing severe muscle spasms in her back, but thanks to Dr. Ho's decompression belt, which she still uses a minimum of 2 times a day, she has had pain relief.
Recommendations
If you are looking for a natural, drug-free way to obtain pain relief from your back, we recommend trying Dr. Ho's 2 in 1 Decompression Belt for Back Pain. It's worth a try and can be returned within 90 days if the product is not for you.