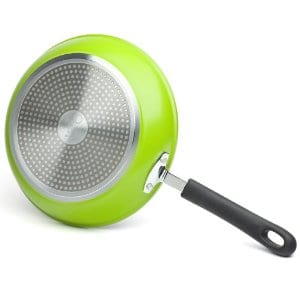 The Green Earth Frying Pan is not the only pan on the market billing itself as an eco-friendly pan. Not only does it claim to be non-stick but it also claims to be safe for you by not using any hazardous chemicals that can transfer to your food. We all want to be as healthy as possible, and not subject ourselves to undue dangers like poisonous chemicals in some frying pans, but does something like this work, and are they really safe to use?
Overview
Whether it's an urban legend or not, many people believe that you can't cook on a non-stick fry pan with metal utensils because if you scratch the coating it will release toxic chemicals into the air, and into your food. For some companies this was surely a public relations nightmare, but it did set the stage for frying pans like this one to come along promising to use safer materials. Apparently these rumors had some merit to them, and some frying pans can't even be heated too high for fear of the chemicals being burned up into the surrounding atmosphere. It's kind of ironic to think that you couldn't add heat to a frying pan, or that you'd have to be careful of how hot you get it.
The Claim
The claim is that this pan is 100% free of PTFE and PFOA so you don't have to worry about the cleanliness of the food you cook on it, as you won't be ingesting anything harmful from the cooking process. It's somewhat alarming that several frying pans are still being sold today, knowing what we now know about these harmful substances. They also say that this is a very durable pan, and that the design of it is intentional so that foods don't stick to it. Another benefit they talk about is the handle, and how you can always grab onto it without worrying about burning your hand because it doesn't transfer heat to it.
The Cost
You can get the Green Earth Frying Pan for around $30, and this includes free shipping. That's a fantastic price for a frying pan of this caliber, and is one of several reasons why we're reviewing this product positively. Other pans at this price point leave much to be desired.
The Commitment
All you need to do is toss out your old frying pan and replace it with a Green Earth frying pan. It can be used for all of the same foods and recipes that you'd use a typical frying pan with.
Evaluation
The one item that most frying pans use as an example of how non-stick they are is a fried egg. We're all familiar with eggs sticking to pans, even with the use of plenty of butter or cooking spray, so when you see that an egg doesn't stick to a fry pan, even without anything added to the pan, it's pretty convincing. This is made out of ceramic, and so it's a win win for both you and the company. The beauty of ceramic is that it doesn't contain the harmful substances found in metals and other man made substances. It's also really cheap to make. So the company wins because they can sell you a great frying pan that doesn't cost a lot of make, and you win because the materials it uses won't hurt your health.
It's important to remember that no matter what frying pan you end up going with, none of them are designed to last a lifetime. The nonstick ability of this pan will only last so long, and then you'll want to replace it. You'll also want to use plastic or wooden utensils when cooking with it, in order to make it last longer for you.
Final Green Earth Frying Pan Review
The Green Earth Frying Pan is a winner and gets our Thumbs Up review based on the hundreds of people that have bought it and used it, and also on the fact that they have made a product that truly attempts to help out the consumer. At this price point they are not trying to take advantage of anyone, and they are really saving people from having to use dangerous non-stick cookware that's out there.
Our Recommendation
If you don't already have a great non-stick pan, this should be on your short list of things to add to your kitchen. It's got a great non-stick surface, so you won't have to use as much butter and oil, and your food will come out tasting just as good, and without sticking to the pan, and causing a big headache, and possibly even ruining the food. Compared to other "green" frying pans, this one is a cut above, and definitely worth trying out in your own home.

What do you think? Does Green Earth Frying Pan work or not?