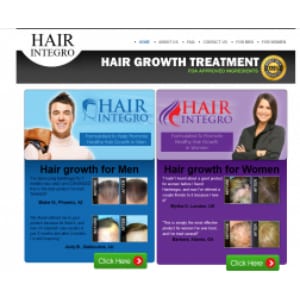 HairIntegro is a hair loss solution for both men and women that says it can promote healthy hair growth. If you've tried other products that didn't work out, you might be skeptical about this one, since it is trying to help those with hair loss attributable to excessive amounts of DHT. But they claim it works for 9 out of 10 people, so let's take a closer look.
Overview
It's no fun losing your hair, because you don't know where it's going to stop. It can have major effects on your confidence levels, and for some it can be very debilitating socially. There are so many products out there promising to save your hair, and many of them don't live up to those promises. It can lead to feeling numb or callous when you read even more claims, and you might get to the point where you don't want to try anything new. But it's important to remain diligent, and find a product that works for you, as everyone responds differently to different ingredients and treatments.
The Claim
The makers of HairIntegro say that they're using a mix of scientifically proven ingredients like Minoxidil, combined with proven all-natural ingredients that help block excess DHT and get your hair to return to its natural growth cycle. The Minoxidil they're using is FDA approved, and since it's a generic drug it has to be the same formulation that is used in products like Rogaine that have been clinically proven to regrow hair.
The Hype
The hair loss industry is one of the most hyped up industries on the planet. Because hair loss strikes a chord at such a visceral level with most people, there is a strong desire to get it to stop, and to return the hair to its previous glory. That's why any hair growth product that shows signs of success gets its 15 minutes of fame, and that's what seems to be happening here. It's important to keep your expectations in check and not get overly amped up to try this, but take more of a scientific approach, and measure your results objectively.
The Cost
For men: A one-month supply of HairIntegro is $40 with $7 shipping and handling. For women: A two-month supply is $70. The shipping charges seem reasonable, and fluctuate depending on how much you order. Compared to other options this seems well-priced, and there are discounts when you order larger amounts. For example, there's a 6 month supply for $180 on Amazon for men, which is just $30 a month on average. It's also good to note here that these prices include both steps of the program.
Their guarantee says that it's 120%, so they're really going out of their way to make this an easy decision on your part. Nobody likes spending money on things that don't work, or feeling like they've been had, and this is one way to avoid that.
The Commitment
You'll have to commit to both taking the pills, and applying the topical liquid, which will likely mean a change to your daily routine unless you're already using a different hair regimen. This two-tonged approach is important because you want to hit your hair loss from as many different angles as you can. You can also commit to eating better food and getting more exercise, so that your body can be at its healthiest. That way you'll be doing all that you can to have a healthy head of hair, and you can rest at ease knowing that you're not contributing to further hair loss due to your lifestyle.
Evaluation
The HairIntegro approach involves using both a topical solution and an internal solution as well. This means that you're treating your hair loss at the source, and also from the inside with pills. Most hair loss systems out there will do one or the other, so you're missing out on half of the program. Covering all of your bases is essential, and your hair begins its growth phase even before you see it, so it's good to have the right nutrients in your body to help your hair grow at its full potential.
It's always nice to see a company break down a hair loss product between men and women, because their needs are a bit different. Many companies have a one-size-fits-all approach to the genders, with a stronger focus on men, with women thrown in as an afterthought. Here they have both sexes represented equally, and each with their own specially formulated product.
Final HairIntegro Review
The HairIntegro system is getting our Thumbs Up review. It has the right approach, enough users saying it worked, a success rate that makes it promising, and a return policy that makes it risk free. When compared to other hair loss treatments, they're doing everything right here, and it is definitely worth a trial run. We've reviewed dozens of hair loss treatments for both men and women, and have seen just about everything under the sun, including wild claims and oddball ingredients. We couldn't find any red flags that would stop us from recommending this program.
Our Recommendation
This seems like a solid hair loss product to go with, since initial feedback seems to be positive, and they are willing to back up their claims with a money-back guarantee. The 120% nature of their money-back guarantee means that they're trying to make it as risk-free as possible. The only way that would make sense from their point of view is if they had a very low number of returns, and a very high number of return customers.
What do you think? Does HairIntegro work or not?