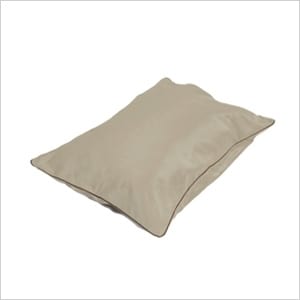 The Cupron Cosmetic Pillowcase is supposed to blend the comfort of satin with the healing properties of copper. If you sleep on your back you might want to take a pass on this one, but for side and tummy sleepers this may be a way to delay the onset of wrinkles and fine lines.
Overview
There have been recent findings that say if you're a side sleeper or a stomach sleeper then you might have more problems with wrinkles than someone that sleeps on their back. This is because in many instances that's 8 hours of having your face smushed by the pillow. Over time these wrinkles can get more and more pronounced, and become a real problem.
The Claim
Cupron claims that their Cosmetic Pillowcase can help you avoid these fine lines and wrinkles, and because of the material it uses it can also help balance your skin tone. They say that the copper it contains can help your skin build proteins, which in turn helps you have smoother skin, a skin tone that is more even, and a healthier glow than you currently have. They say that the end result is you'll have younger-looking skin that appears more fresh and vital.
They say that you'll be able to see these benefits in just four weeks, and they have a rather simple guarantee with a full refund if you don't like their products.
The Hype
It seems they're always coming up with new findings and different ways to get wrinkles. One insidious way to scare us is to tell us that things are happening while we sleep. It's unsettling to think that something as harmless as sleeping could be causing wrinkles in all the wrong places like crow's feet, or
The Cost
The Cupron Cosmetic Pillowcase goes for $50 plus shipping, so is pretty pricey in the world of pillowcases. Obviously it would have to do what it says it can do in order to justify it's higher price point. They also have a sleep set that goes for $70 and also includes a sleep mask and gloves so you can be helping your eyes and hands at the same time that you're helping the rest of your face.
The Commitment
This is the best part, because all you have to do is slip this pillowcase onto your favorite pillow and go to sleep. The pillowcase does all of the work while you sleep.
Evaluation
The Cupron Cosmetic Pillowcase is allegedly infused with a copper alloy right in the microfibers. This means that it won't feel like you're sleeping on metal, because it's so fine, but you're supposed to be getting the positive benefits that copper has to offer. Some are skeptical about the use of copper in a pillowcase, saying that it would be hard to get to the dermis layer where all of the anti-aging magic happens. But those that have tried sleeping on copper-embedded pillowcases have said that they've had noticeable results, so it's a matter of real world testing versus what's shown on paper.
Since the pillowcase can be washed and reused again and again without wearing out the copper, the price doesn't seem too bad. This is a pillowcase that you can have for a long time, and since it doesn't require a lot of effort to use on your part, it's a set-and-forget item that will give you peace of mind while you're sleeping. Just knowing that you're not contributing to more wrinkles is enough to give this the green light, and if it can actually improve the appearance of the skin on top of that, all the better.
Final Cupron Cosmetic Pillowcase Review
We're giving the Cupron Cosmetic Pillowcase the Solid Try rating based on the amount of positive feedback it's received, and the way that they've made the pillowcase feel like satin while also containing copper. The result is you're getting the best of both worlds, a comfortable pillowcase, and a facial treatment each night while you sleep. With their solid return policy in place, it's easy enough to put this in place and then measure your results a month later. It's a good idea to take before pictures so that you can make an objective decision because sometimes the mind will play tricks on you in regards to your appearance.
Our Recommendation
Fighting the signs of aging is going to require a non-stop effort on your part. You'll need to have a daily skin care regimen in order to keep your skin properly nourished and hydrated, and at night it's important to also give assistance to your skin. This pillowcase can be one tool in your anti-aging kit, but you wouldn't want to rely on it entirely. Be sure that you have a good system in place to take care of your skin throughout the day as well.
What do you think? Does Cupron Cosmetic Pillowcase work or not?