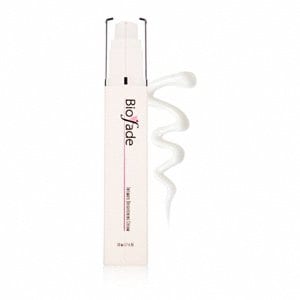 Biofade claims to be the number one skin brightener in America, a pretty bold claim since there are many to choose from. They hope to win you over by using all natural ingredients and backing up their claims with a money-back guarantee. So let's see what exactly these products are promising to do.
Overview
They say that no one is perfect, and for easy proof you just have to look at the skin. Almost everyone out there has some part of their skin that they'd like to change, whether they have a blemish, dark spots, scar tissue, or other flaw,. No matter how minor they might be, they still become a source of embarrassment, or give a feeling of not being perfect. If you could just fix them it would mean a renewed sense of confidence. But finding the product that can deliver these sort of results is hard.
The Claim
The makers of Biofade guarantee that you'll get results from using their product, and they say that it works on everyone, regardless of skin type and tone. They also say you can use this if you have sensitive skin. They have broken down their product line into three distinct creams. One is for private areas, one is for scars, and one is for blemishes. The overall goal is the same though, to make the skin a nice even tone, lighten the appearance of dark blemishes, and even out spots and other irregularities of the skin.
The Hype
Having flawless skin is a goal for many of us, and it is reinforced by seeing actresses and models in magazines and on TV whose skin looks impeccable. But that is an ideal that shouldn't be taken too seriously, since much of it is an illusion created by make-up, lighting, and post-session touch-ups with photo editing software. Keeping that in mind, that the world of fashion and celebrities is largely based on visual trickery, helps to keep a level head when working on your own look.
The Cost
Biofade comes in three different formulas, each with the same pricing structure. You can get one bottle for $60, two for $110, and three for $160, effectively getting your per bottle price down to around $53. All of these prices include free shipping, and while they do have a money-back guarantee there's a $10 restocking fee and some odd wording in their return policy so it's not exactly a risk-free offer.
The Commitment
These creams don't require that you constantly apply them, and you're simply asked to use them twice a day, so you can easily incorporate this into a morning and nightly routine. The important thing is to stick to the daily applications and not miss one. The skin responds best when you attend to it on a very regular basis. Making this a habit is your best tool towards seeing real changes in the skin's appearance.
Evaluation
Depending on the area you want to treat, there is a different form of Biofade for you. They have a cream that will help you even out your intimate areas, private places that are generally too sensitive to be treated with other products. They also have a scar brightener, which is supposed to gradually help the scar fade and can take anywhere from a few weeks to several months to see the best results.
There is limited data as far as whether or not these creams work the way they're claimed to. While they claim that their formula has been clinically proven, they don't cite the clinical studies that prove this. They don't have any testimonials aside from before and after pictures. The ingredient list does appear to contain natural ingredients, but it is unclear and uncertain if those ingredients would combine to create the effects they say this provides. It would be a good idea to test this out on a smaller area that isn't regularly visible before using it over larger exposed areas.
Final Biofade Review
Biofade is getting the Try rating from us, as there is some evidence that it works, but not enough to get your hopes up entirely. If you go into this with level expectations and take more of an experimental approach you might be pleasantly surprised. They they include free shipping and have a 45 day money back guarantee, so all that you're risking is the $10 restocking fee if you send it back. The 45 days gives you ample time to try it out and you should have noticeable results from any of their products within this time frame.
Our Recommendation
When it comes to skin lighteners and brighteners the key is to go with products that are using all natural ingredients, since you'll be rubbing this into your skin. It becomes doubly important when you'll be rubbing this into intimate areas that are very sensitive.
What do you think? Does Biofade work or not?