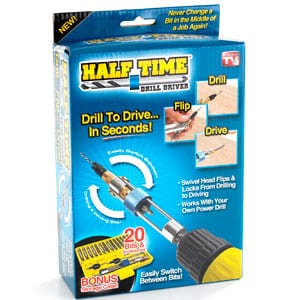 Do you bill yourself as a Mr. or Mrs. Fix-It and have your eye on the Half Time Drill Driver? It's no surprise that so many people have expressed interest in this, because it makes drilling and driving look so much easier. By quickly being able to switch between bits, this seems like it could be the answer for lots of handymen and women out there.
Overview
Drills have one inherent flaw: they don't come with a bit that does it all. So the time they save from having to make pilot holes and screw in screws by hand is neutralized by the time it takes to constantly switch between a drill bit and a driver bit. Some drills make the process easier than others, and newer models have tried to make the switching as easy as possible.
The Claim
The name implies that you'll be able to complete your home projects in half the time it usually takes because you won't be forced to stop and change your drill bits when you want to switch from drilling to driving. If you've ever needed to drill holes and drive screws in the same project, you can relate to the problem that this product supposedly fixes.
So they haven't really overstated the problem that exists, it is a pain in the neck having to change drill bits, but what they have exaggerated is how much easier their product makes things. If it's just as hard, or harder, to use the Half Time Drill Driver, then it wouldn't make sense to spend money on it.
The Hype
In their ad, they show so many different things being built, they are trying to subconsciously say that you'll be able to take on these sort of projects if you had your own Half Time Drill Driver. But the majority of people won't finally build that shed out in the backyard, or fix a broken gutter. The truth is this will probably collect dust in the corner of your garage after you see how ineffective it is.
The Cost
It's $36 if you order through the main site, and you'll end up with 2 sets of the product. This is because they go with the popular but shady buy one get one free just pay shipping offer. There's no real reason why you need two sets, and it lets you know that it costs them far less than $8 to manufacture the product. Or just get one set from Amazon for less than $10.
The Commitment
The only selling feature to the Half Time Drill Driver is that it saves you time and makes projects more easy for you. So if you use your tools a lot, this will actually be a time saver, but if you aren't a handyman then you'll probably not use these too often, and if you do you won't be able to use them as easily as it appears.
Feedback and Reviews
The Half Time Drill Driver has taken a beating by those that have tried it. They say that it flat out doesn't work the way it is shown, and is far too wobbly to get any work done with it. The overall consensus is that they had the right idea, but they didn't execute it properly. It comes with too many flaws to work, and even those that consider themselves well-versed when using a drill could not get it to work like it's shown in the ads.
Final Half Time Drill Driver Review
Many products are like bad movies. they start off with a good concept but have you walking out of the theater halfway through. In this instance, the makers of Half Time Drill Driver blew it big time. Either they rushed through the R and D phase, or they hired cheap manufactures in developing Asian nations, whatever the cause the product they are selling does not live up to the claims made in its infomercials.
Our Recommendation
No matter if you're an expert woodworker, or a weekend Mr. Fix-It Warrior, you can safely pass on getting a Half Time Drill Driver. It will not make your projects go any smoother, and because of its faulty construction, it will actually impede your progress and make things more difficult for you.
What do you think? Does Half Time Drill Driver work or not?