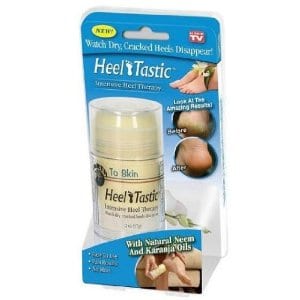 We always want a nice and glowing physical appearance – a physical front that is free from impurities and a truly very flawless one. Yet, sometimes, things like physical imperfections happen. And one of these common flaws is the cracking and chapping of our heels.
Having a crack on the surface of your heels is not a new epidemic. This problem is often seen as the result of busy and stressful days. With this dilemma that many of us face, a product has been created to give a permanent solution to this problem. This apparently heaven-sent answer to our cracking-heels dilemma is called HeelTastic.
Overview
HeelTastic is the "miracle balm" that is proven to heal and repair rough and dry skin easily and quickly. The creation of this reportedly extraordinary product was made possible because of the perseverance of its chemist creator who was also having a hard time because of his cracked heels. HeelTastic is a well-blended solution that is composed of imported Indian Neem and Karanja oils that are renowned for their restorative properties.
With these time-tested ingredients, HeelTastic does not only help with the appearance of your feet but also makes them smell better. Its formula allows easy absorption that penetrates the cream deep below the skin's surface. With this property, HeelTastic allows the natural healing properties of the body to go to work making even rough skin baby-smooth and soft after only a few applications.
According to satisfied past users, HeelTastic exhibits effectiveness and a soothing scent with the help of lemongrass and ginger that surely boost up this product as your number one favorite skin care products.
The Claim
HeelTastic has a stellar user rating, and a negative review is hard to find. Many have claimed that HeelTastic is their hero that saved them in their cracked-heel moment of need. These claims are not surprising because, truly, HeelTastic can do more than what you are expecting, it can make it all better.
HeelTastic apparently kills whatever organism is infecting your feet and softens them with the same application. You can say that this is a kind of a miracle because your skin complications can be solved by HeelTastic in a short time of 2 overnight applications. And the amazing outcome that you are looking for, healthy pink feet, can be yours in just a week of nightly applications. What is more amazing than that?
The Hype
HeelTastic has been popular on the Internet and also in the worldwide market since the product has been released to the public. The traffic and hype of this product is not surprising because people get excited and tend to rave about things that actually work. Also, professional dermatologists have renowned this product as a safe and trustworthy creation that deserves to be given a try.
The Ingredients
HeelTastic has the following ingredients that are making even professional dermatologists take notice: Dimethicone (1%), Cocos Nucifera (Coconut) Fruit Oil, Glycine Soja (Soybean) Wax, Beeswax, Copernicia Cerifera (Carnauba) Wax, Ozokerite, Proprietary Blend of Essential Oils, Pongamia Glabra (Karanja) Seed Oil, Nigella Sativa (Black Cumin) Seed Oil, Butyrospermum Parkii (Shea Butter), Theobroma Cacao (Cocoa) Seed Butter, Azadirachta Melia (Neem) Seed Oil, Isopropyl Myristate, Oryza Sativa (Rice) Bran Oil, Olea Europaea (Olive) Fruit Oil, Persea Gratissima (Avocado) Oil, Prunus Amygdalus Dulcis (Sweet Almond) Seed Oil, Carthamus Tinctorius (Safflower) Seed Oil, Helianthus Annuus (Sunflower) Seed Oil, Tolnaftate, Tocopheryl Acetate, Retinyl Palmitate, Phenoxyethanol, Caprylyl Glycol.
With these dermatologist-approved ingredients, it is not shocking to have constant hype of HeelTastic on several websites and review pages.
The Cost
HeelTastic can be bought for as low as $9.99. You can order from the main, offical website, or from a site like Amazon where you can get it shipped free if you get your order total over $25. At the manufacturer's site you'll have to pay an extra $7 for shipping and handling.
Evaluation
HeelTastic has many essential and ingenious ingredients that are capable of softening your cracked and dried up heels. It's also clinically proven with praise from many professional dermatologists. This product can also be purchased at a very affordable price. The purchase of this product also gives you the privilege of some special bonus offers and some other advantages that can benefit you in a lot of ways. With these benefits, it's clear that HeelTastic can be classified as something that can serve the user well.
An actual user shares her personal experience:
Final HeelTastic Review
HeelTastic may seem to be a very ordinary product if you simply judge it on its physical appearance. Yet, far more than what its looks may show you, HeelTastic is capable of relieving your cracked and chafed heels. The great features of HeelTastic are the following: specially formulated for cracked and dry skin, acts as anti-fungal and anti-bacterial oil, shows amazing results in just days, gentle to use, and finally, this is available in a very pleasant scent.
Our Recommendation
HeelTastic, just like other external creams, contains ingredients that are only meant for external use. Misuse of this solution, like eating it or applying it to places other than your skin, may cause some undesirable effects. So, only use it on parts of your body where it is directed.
HeelTastic, according to all its past users and critics, does not have any flaws. With this, it appears to be an effective and a workable cure to heal heel problems. So, grab it right away to end your suffering from cracked, dry heels!
What do you think? Does the HeelTastic work or not?