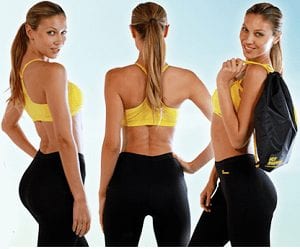 Its about time again that we took a look at another product that has hit the market claiming to be the answer to helping you get slim and trim and shed a few pounds. This one is called Hot Shapers which is a pretty nifty name being as most of us want just that a "hot shape". So it is going to produce the hot results that we are looking for?
Overview
Okay now here is the catch when it comes to hot. There is hot looking and there is hot feeling which means sweating. In the case of the Hot Shapers there really is a play on words here, because the whole concept of the product is to get you sweating which in turn is going to encourage your body to shed some of those extra pounds and maybe reduce some inches. All of this could be possible because of the special sweat producing material Neotex™ that the Hot Shapers are comprised of.
The Claim
Thanks to the material that these special clothing items are comprised of the Company claims that they will raise your body's core temperature. They are indicating it will help you to lose weight,maximize your fitness routine,and even help to slim your tummy and thighs. All of this while improving your over-all well being.
The Hype
Our reviews are often a little different in that rather than just put a product to just one test, we like to delve into the logic of the product and do some comparisons to similar types. So here for the Hot Shapers we first wanted to get past the hype, which is not too subtle. Starting with the visual hype all you have to do is look at the promo video. Just seeing the shape of the gals participating in the sweat test is enough to create the desire to follow in their footsteps hoping to achieve a dynamite body like theirs. The promo text is simple focusing on the production of sweat, relying on the premise that most interested readers will put some value as to how sweating can help promote weight loss.
The Cost
As soon as you hit the buy now button on their promo site you are going to see that Hot Shapers consist of one pair of knee pants to which you will have to indicate your size requirement. The price is $79.95 and on top of this you are going to have to pay for the shipping which is an extra $9.95 for a 2 to 4 week delivery or if you are in a real hurry to receive it then plan on paying a shipping fee of $19.95
The Commitment
Are you going to be determined enough to carry out some activity that is going to get that sweat rolling so the Hot Shaper can do it's job. It seems like it doesn't take that much energy to accomplish the sweat effect as the special material is designed to do this. By the way you are going to have to dedicate some time to caring properly for this product. They are recommending that after each use they be hand washed in cold water. Considering they suggest that you wear them everyday, be prepared to be spending some time on the daily follow care they are suggesting.
Evaluation
We couldn't resist in the past to take a look at other wearable products that either help you to camouflage your extra pounds or inches or indirectly help you to shed them like the Adjustable Slimming Belt. You will see our comments there were not all that favorable. We cannot claim to be weight loss experts so we really want to see what others thought of the concept of sweating for weight loss. We found some interesting material about a similar product called Hot Pants that was a matter of discussion and discovered that there is quite a bit of controversy over weight loss by increasing body temperature as being more effective at burning fat, or whether the opposite is true like decreasing the temperature. So far there doesn't seem to be any conclusive scientific evidence to support either side.
Final Hot Shapers Review
We really have to give this product a risky Try/Buy. It is not cheap and when you consider the daily attention to keeping them clean and fresh that is needed it really is unlikely that a lot of people will be diligent in going through the hand washing daily regime. Then because there is such controversy as to whether sweating is really going to create dynamic results is not area of concern. There there is the small print on the promo material that we just have to bring to your attention, which is *Following the tasty and healthy diet plan and the Fiesta hot exercise program. This leaves one wondering if those impressive results they are promoting for the Hot Shapers is dependent on the involvement of that outlined in the small print.
Our Recommendation
While we are not actively pushing this as a strong try/buy it just may be something that works for you. If you are one of those people who have researched the effects of sweating and weight reduction and feel positive about it, then this may be an ideal product for you. Don't forget though the results that you are expecting might include other requirements.
What do you think? Does Hot Shapers work or not?