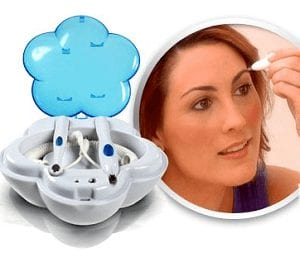 Most women and men too have a real issue with unwanted hair and there are tons of products on the market that are touted as being the best solution for this problem. The challenge is though, which one really does work and could the Duo Hair Remover be the latest and most affordable product to provide the answer to unwanted hair?
Overview
All too often those who have a battle with unwanted hair usually end up spending a small fortune on products and devices that are promoted as being the one to use to get rid of this extra growth. At lot of time and money and effort is spent on trying to get rid of hair as well as for growing it for those with hair thinning in the wrong places. The Duo Hair Remover is a product that is suppose to allow you to remove unwanted hair. It comes with two applicators with one for smaller hair areas and another for larger areas.
The Claim
The Company is claiming that the Duo Hair Remover is fast, easy, painless and a permanent hair removal system. They say that it emits a harmless frequency that destroys the hair root so you don't have to deal with return hair growth. They are touting that it gives the same results that you would achieve if the hair removal were done in a professional manner.
The Hype
The hype surrounds the wants and needs of those who are dealing with unwanted hair, plus zeros in on the latest technology that is grabbing the attention of many. Hair removal can take on many different forms. It can be done with waxing, depilatory, or by an electrologist just to name a few, but they are all time consuming methods and often painful and yes, expensive. So the marketing material for the Duo Hair Remover has addressed all of these major concerns. Then recently laser has become an item of interest for hair removal and the promoters are focusing on this with their marketing message of frequency type hair removal.
The Cost
The system sells for about $38. during the current promotion, but additional shipping costs may be applied to some areas.If you want to add approx. $8. to your order you will get a second Duo Hair Remover System.
The Commitment
You are still basically going to have to approach each individual hair for removal. This may be only a one time thing for the individual hair if the system works as it says it will. You will probably have to devote some time to the hair removal on a weekly basis depending on how much of a hair problem that you have, and what areas you are treating.
Evaluation
Often when doing an evaluation of any product it means deciphering the promotional information and discerning between the selling hype and the hype that truly focuses on the benefits and features. Sometimes the opposite occurs where there seems to be information missing, and in some ways this seems to have occurred with the Duo Hair Remover. There really isn't a lot of promotional material outlining the actual technology of what makes this product work. It does say the results of permanent hair removal occur as a result of the powerful frequency reaching and destroying the hair root. It does not say what this frequency is. Is it a laser product or high frequency unit? Not knowing makes it difficult to look at past results from similar type units.
Final Duo Hair Remover Review
We're going to give the Duo Hair Remover System a risky Try/Buy rating mostly because the information on the technology for what makes it work is so vague. In the video it refers to Laser Like removal, which is not really saying that it is laser technology. You may want to consider giving it a try if you have found that the other systems on the market are just too expensive for you. If you want to check out some other options then take a look at our comparison review of the No No Hair system and the Tria system.
Our Recommendation
Hair removal results really can vary in each individual. This is because each of us is unique and so is our hair. Even the color of our skin can determine the degree of difficulty for permanent hair removal. This may lend to why some hair removal systems work well for some people and not for others. You will see this when you check out the feed backs on our other waxing system reviews. Laser really is becoming an exciting solution for some but there are also those who have found high frequency hair removal systems to be useful.
What do you think? Does Duo Hair Remover work or not?