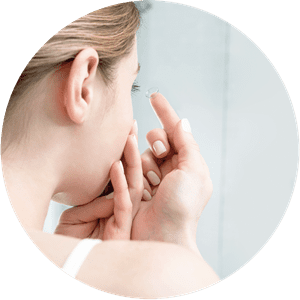 For those that wear contacts they often have a lot of complaints about having to do so. One of the biggest ones are about how expensive they are and most often they have to replace them because they have become lost or damaged. So could Hubble contacts create a real change in the way people who have to wear contacts perceive them?
Overview
Hubble Contacts are contacts that you only wear for one day then they are discarded and you use a new set the next day.
The Claim
Hubble claims that their contact lenses are half the price of conventional lenses so you can really afford to have fresh lenses for each day.They are saying that they have teamed up with a top quality contact lens manufacturer to produce the Hubble contacts so this not just some fad or gimmick.
The Hype
The hype really focuses around the cost of the Hubble Contacts and the fact that you can have fresh new and clean lenses to wear everyday.
The Cost
At first you won't have to pay anything for the Hubble lenses because you are going to get a free two week trial but there is a $3. Charge for shipping and handling. Then following this once you have to start to pay you are looking at about $30. A month in the US plus $3. For the shipping. This will give you 30 pairs of lenses. There may also be an opportunity to get these paid for by your insurance provider.
The Commitment
There really isn't going to be much of a commitment on your part to become a Hubble Contacts user. You do have to have a valid prescription for them. You also will have to remember to order them each month. You will need to open a Hubble account which seems to be quick and easy.
Evaluation
There seems to be a big promotional push recently which may be successful in making the Hubble Contacts more well known. The promoters have been really diligent with their marketing efforts even to the point of running TV ads. There is some feedback beginning to surface and most of what is currently available seems to be relatively positive. What most like about them is they are convenient and there are few complaints about the quality. Some of the negative aspects seem to come from those that also have issues with other types of contacts. For example, one user had difficulty with the Hubble Contacts because she has trouble with dry eyes. Others have reported that they really like this product because they are so comfortable.
Final Hubble Contacts Review
We are prepared to give the Hubble Contacts a thumbs up rating. We like the fact that there is a 14 day trial period that costs nothing other than shipping. We also like that you can cancel at any time so you are not locked into a tight subscription program. Overall they seem reasonably priced and the quality seems to be most acceptable by those who have taken the time to give a review.
Our Recommendation
If you are interested in the Hubble Contacts then you really need to research more about them and determine if you qualify for them, as there may be some restrictions. For those that are wondering if there are other options for poor vision they may want to check out Lasik Eye Surgery.
What do you think? Does Hubble Contacts work or not?