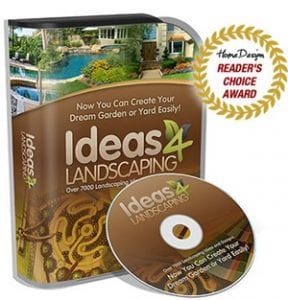 Anyone that owns a home knows how much work is involved in keeping both the interior and exterior in prime shape. This is not only for optimized use but for esthetics purposes too. Landscaping can be challenging and overwhelming. Not to mention expensive, so this Ideas 4 Landscaping Program may provide a whole lot of solutions for your home landscaping.
Overview
Ideas 4 Landscaping is a whole collection of over 7,000 landscaping designs and ideas. Plus, you get the instructions and videos to walk you through the "do it yourself" segment of landscaping. This is where you can stand to save some substantial money on your own projects.
The Claim
The Promoters of Ideas 4 Landscaping claim that they are going to give you all the information you need not only for landscaping ideas but videos and instructions on how to do many of them. There is lots in this package to help those ranging from the beginner to the pro.
The Hype
The hype really comes from having so many options to choose from in one easy location which is the Ideas 4 Landscaping package. Many people love to do their own outdoor work not only because it saves them money, but because it is something they can enjoy. With a package like this Ideas 4 Landscaping you can take the basic ideas and then modify it to suit your own needs.
The Cost
With so much information and exciting and innovative ideas to take advantage of you may think that the Ideas 4 Landscaping package would be super expensive. You will be pleased to know it is only $27. Included in this you get 140 free landscaping videos, Landscaping Revealed Guide, Green Home Guide, and How to Grow Organic Vegetables. Plenty of projects to keep you busy outdoors.
The Commitment
The commitment comes from you going through all the material that you will get with Ideas 4 Landscaping, then deciding on which projects are most appealing to you. No doubt you will want to go through the materials many times over as it is something you can put to good use to complete your entire landscaping needs.
Evaluation
We really believe that a package like this Ideas 4 Landscaping is something that everyone who owns a home should have. It can cost a fortune to hire experts to do this kind of work. Having so many options is another big benefit. You can mix and match to your heart's content, and still stay within your budget.
Final Ideas 4 Landscaping Review
We are going to give the Ideas 4 Landscaping a thumbs up.We like the fact that it offers tons of ideas in so many different areas of landscaping. You will find project on driveways,gazebos,hedges,Japanese gardens and tons more. What we also like about it is that the Ideas 4 Landscaping has been produced by someone that is trained and knowledgeable in the field of landscaping. By using this package you are able to utilize that expertise. We also like the fact that there are lots of "how tos" so you get proper instructions for the projects you want to carry out.
Our Recommendation
This Ideas 4 Landscaping is certainly going to bring you plenty of enjoyment and hopefully will save you lots of money on your landscaping projects as you do them yourself. For items that you may need for your outdoor work check out our landscaping section.
Official Website: Ideas 4 Landscaping
What do you think? Does Ideas 4 Landscaping work or not?