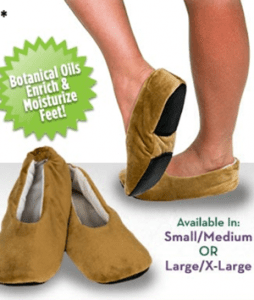 Any time of year is a good time to look after your feet. In the summer the feet tend to dry out and become blistered or callused from the winter footwear. In the summer we love to show our feet off in those summer sandals but only if they look picture perfect. Not everyone has the time or money to spend on their feet with regular pedicures. So what is the alternative? Well, it may be the Slip on Pedi.
Overview
The Slip on Pedi is a pair of slippers that has a gel lining that is infused with a variety of nourishing oils. These oils are meant to provide a treatment for dry, rough, cracked feet during the time that you are wearing them.
The Claim
The promoters of Slip on Pedi claim the gel infused liner is comprised of seven different healing oils. Although they do not list the specific oils.
The Hype
The hype really revolves being able to go about your business while wearing the slippers as they go about their business of treating your feet.
The Cost
The cost of the Slip on Pedi is $19.95 plus $7.95 shipping. If you are willing to pay for extra shipping you can get a second pair free. They only come in two sizes and they are not available for men.
The Commitment
No bit commitment other than remembering to wear them. If you want to extend their longevity then you really should only wear them for a short period of time, and not as a regular slipper.
Evaluation
At first we really had to wonder if this was just a gimmick or whether there was some real value to a product such as this. The best way to determine that was to check out what Amazon had to offer that was similar. We found a similar product there called moisturizing socks. These were getting mixed reviews although a lot of the feedback was favorable.The cost of these was $12.99. so you may want to take a closer look and do some comparisions.
Final Slip On Pedi Review
We are prepared to give the Slip on Pedi a Try/Buy. We don't like the fact the specific oils are not listed. Some people are sensitive to the botanical oils so these should be clearly listed. We do like the fact that they are slippers but don't like the limitation in sizes or that they are not available for men. They clearly will be a time saver for those that can't take time out for regular pedicures. The Company also indicates that there is no oily residue left on the feet from the oils either. This makes us question as to just how much of the oil is actually being released.
Our Recommendation
If you really want some extra care for your feet, or you just want them to feel good then the Slip on Pedi may be worth a try. This is not some new innovate idea that has just arrived. Some time ago we talked about a similar product called Hydroheel that is made with the same idea.
What do you think? Does Slip on Pedi work or not?