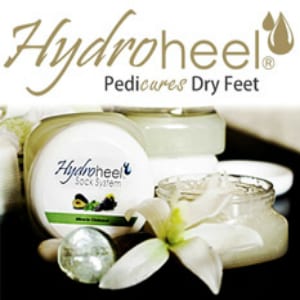 Hydroheel, a pedicure system that allows you to walk around while its moisturizing ointment is absorbed, may be your answer if you've been looking for a way to solve your cracked heels or dry feet. But how well does it really work?
Overview
Lindsey Rietzsch, a modern woman who balances being a mom with several other responsibilities, came up with the this system in response to her own struggle with sore and dry feet. As a busy mother, entrepreneur, and relationship coach it was important to be able to take good care of her feet while remaining mobile. She now shares her creation with nurses, post-office worker, and anyone who works on their feet all day and look for a way to take really good care of their feet.
The Claim
The Hydroheel system claims that it can fix any issues of dry feet and cracked heels in just twenty minutes. It comes with 4 ounces of its "Miracle Ointment," an absorbent ointment containing peppermint, avocado, and grape seed oil, and 3 pairs of "Hydroheel Socks," waterproof plastic socks that trap your body heat and moisture to enhance absorption of the ointment. It is also claimed that this can be used on other dry or cracked parts of the body such as knees, elbows, and knuckles.
The Hype
The product has also been extremely popular at expos, where potential clients have been given the chance to try the product on one of their feet while they walk around for about 30 minutes and get to compare the foot treated with Hydroheel to their other foot. Most of those who have tried it give it great reviews, as it seems to be a very effective product in making feet soft and smooth. The momentum picked up by this product can be seen in the testimonials and the remarkable before and after pictures. Positive reviews are also popping up in the web forums where customers have used the product for treating eczema and blisters.
The Cost
The Hydroheel system costs $20 plus shipping and handling. It is only available for purchase through their official website. They say you will not only see immediate results in the appearance of your feet, but you should also notice a change in your wallet. According to them you are really getting a $400 value with your $20 purchase since pedicures usually cost around $20 and each kit they sell is enough for twenty pedicures. One of the biggest questions that you'll undoubtedly have about this product is what is the difference between it and a regular foot lotion.
The Commitment
First you rub on the Miracle Ointment on your feet's problem areas and heels, and then you put on the Hydroheel socks and go about performing your errands while your feet get a mobile pedicure. Since you will be wearing these socks you can put on regular socks or slippers and go about your business. After 20 minutes have elapsed you take off their special socks and your feet should be soft and smooth after the first treatment.
Evaluation
The mysteriously named "Miracle Ointment" certainly causes one to wonder. The only way to find out if this is something that you can replicate yourself is to rub some lotion on your feet and wrap them with plastic bags or in plastic wrap and walk around your house a bit. However, that might get a little messy. If you don't like it, then you have 30 days under their money back guarantee.
Having to rinse out and reuse the Hydro Socks is definitely the most inconvenient aspect of using this product. It is recommended that you use warm soap and water to rinse them out after every use.
Final Hydroheel Review
If time is money, then the fact that you are able to move around doing something else while taking care of your feet should be added as a big plus for this product. In fact, movement is recommended to enhance absorption of the ointment as walking around allows the plastic bootie to trap more of your body's heat and moisture. The feature of being hidden under normal tube socks or slippers is an added bonus that means that you can really be mobile while getting a pedicure.
Users claim that they have seen improved results when wearing the Hydro Socks for about an hour, which can probably be attributed to the heat generated by their feet during that time.
Our Recommendation
This seems to be the real deal. The way in which their product functions makes a lot of sense given that its concept seems to function in a fashion similar to thermal spa treatments, and the number of satisfied customers speaks volumes for the efficiency of this innovative product. Hydroheel certainly seems worth a try, especially if you are someone who frequently gets a pedicure or simply is too busy during business hours to go to a salon to get one.
What do you think? Does Hydroheel work or not?