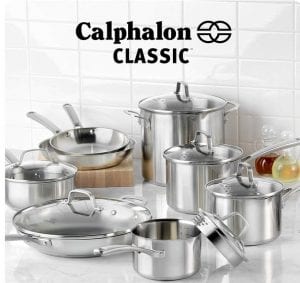 Out of the many products that garner a lot of attention when it comes to the kitchen is cookware. Which is the reason there are so many sets to choose from. It is great to have a lot of options but when there are so many it can get overwhelming. It still doesn't take away from those that have been around for a long time like the Calphalon Cookware. However it does raise the question as to whether the modern technology is about to replace it. Lets take a look at the Calphalon Classic Stainless Steel Set.
The History of the Calphalon Cookware
The company got its start in 1963. It was in 1968 that the Company zeroed in on new technology that was presented by the aerospace industry. Today that doesn't sound all that impressive. It is because it is something that a lot of kitchen cookware companies are doing. But back in 1969, this was a big thing.
Technology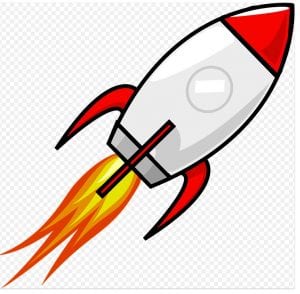 This new technology that was going to revolutionize this cookware was the Calphalon Hard Anodized. It was an electrochemical process of treating raw aluminum which was a standard for pots to enhance its capabilities.
What Did It Deliver On?
Superior cooking performance
Durability
From the Professional to the Public
It wasn't until 1978 that the Calphalon cookware went retail. Just the thought that a home kitchen cook could now use the same cookware that prominent chefs did was a big feature.
The company changed hands then in 2001 and since then has released a few series of Calphalon Cookware. So when looking at reviews of this brand of pans it is important to know which ones are being talked about.
The Calphalon Classic Stainless Steel
When users are referring to the ones that they have had for years it is most likely this set they are referring to.
What Should Make This Cookware Live Up To Its Claims?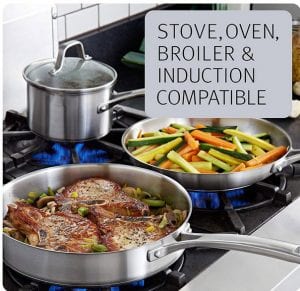 Impact-bonded aluminum base
Fast, even heat
Can be used on stovetop. Oven broiler
Dishwasher safe
Handles are long and ergonomic
Secure grip
Stays cool when the pan is hot
Handles are double riveted
Fill lines
Covers with straining holes
10-year warranty
The Options
This set of pots and pans comes with three size options:
10 piece
13 piece
14 piece
The Price
The price is going to vary according to which kit and where it is bought but the average will be around $258 for the 14 piece set.
Living Up To Its Expectations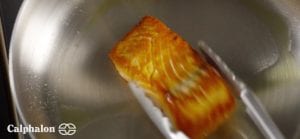 Based on 604 reviews it has received a 4 out of 5 star rating with 61% giving it a 5 star and 14% a 1% this span is a good indicator that the reviewers either like it a lot or they don't.
It seems that one of the biggest complaints was that they stained, but this appears to be an isolated case.
How Do You Make Your Decision?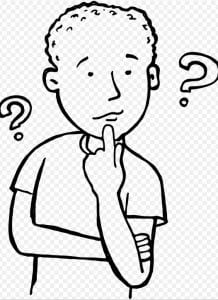 Often what comes with buying this type of kitchenware is which one to choose. Especially for those who are not using price as their deciding factor. What bothers people more is the disappointment when the cookware doesn't live up to its expectations. So the key to making the right choice may be better based on this.
Your expectations are going to be everything that The Calphalon Classic Stainless Steel is claiming. Remembering the major focus is placed on the technology that is used for this pan. So concentrating on this may give some insight and allow for some comparisons.
Impact-bonded aluminum is the key feature with the Calphalon Classic Stainless Steel
What Do The Experts Say?
One of the most used pieces from a set of cookware is the skillet so it makes for a great piece to focus on when trying to make a decision.
Testing of the Best Stainless Steel Skillet

America's Test Kitchen has done a recent test to determine the best stainless steel skillet. Although the Calphalon Classic Stainless Steel was not the winner there was a lot of common sense advice as to what makes these types of skillet superior.
Stainless steel is being overpowered with:
Carbon steel
Cast iron
Non stick
But for these experts still feel that stainless steel is the best. So this still keeps Calphalon in the running.
Why Is It Important:
Professional chefs prefer it for Goulding which is ideal for sauces etc.
It can go from the stovetop to the oven
It doesn't react with acidic foods
It never wears out
The Test Kitchen's Favorite
The test kitchen has chosen the All-Clad as their favourite. You can use their reasons as to why to compare it against the Calphalon to determine the difference
All Clad
The All Clad has three layers of aluminum sandwiched between two layers of stainless steel. It is delivering the best of both metals
Calphalon Signature Stainless Steel Cookware
is made with five layers of metal. Three inner layers of aluminum spread heat evenly across the entire pan, while two stainless steel outer layers
According to the test kitchen experts, five layers are not necessary as it makes the cooking slower and the pan heavier. However, Caphalon believes it distributes the heat more effectively.
Down To The Price
Both of these skillets have some impressive features based on what the professionals are saying counts so that would now bring in your decision about the price.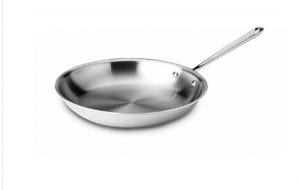 The All Clad is going to cost you about $150. for a 12 inch.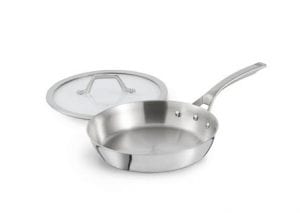 The Cephalon is going to cost you about $80 for a 10 inch
Conclusion
Now doing a little indepth comparison of just one piece of this cookware it appears that the Cephalon is on par with the All Clad when it comes to the technology. There is a substantial price difference. Also, now if you are thinking of buying the entire Calphalon Classic Stainless Steel the price is excellent.
If you are getting caught up in the hype of some of the other pans like the Gotham Steel then you will find our review on that a good one to do a comparison with here.