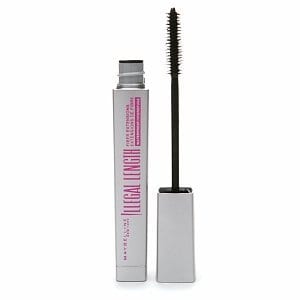 Illegal Length by Maybelline is a mascara that promises to extend your lashes beyond what they're normally capable of. They say that it uses microfibers that attach to your existing lashes, giving them the appearance of being longer and fuller than they are by themselves. So will you really get pulled over by the Lash Police, or does this product not quite measure up?
Overview
In recent years the eyelashes have gotten more and more attention. They've been thought of as a seductive facial part for years now, and mascara has been used for decades to help accentuate them. But just recently have we seen so many products come to market claiming that they can increase the length and thickness of lashes, well beyond what would be considered natural. It seems there's no limit to the length that eyelashes can be, and the longer the better appears to be the common understanding.
The Claim
Maybelline claims that their Illegal Length mascara can build up 4 millimeters of lashes to what you're already packing. They say it accomplishes this by using a special fiber brush that has several points of contact so that the fibers get placed in the right spots over the entire surface of your lashes. They also credit their formula as being quite novel, and proprietary, so you wouldn't be able to get this same kind of extension with other brands. They say that you can either buy this in a waterproof version, or a washable one, depending on what you're going for.
If you're worried about the fibers falling off, you shouldn't be. They try to reassure you that their formula seals the fibers to your lashes, so you can go about your day and not have to worry about any embarrassing moments when your lashes start to flake off. Of course it wouldn't be a very good product if you couldn't make it through the day without it holding up to all of that blinking and potential eye rubbing.
The Hype
Since this is produced by a major cosmetics company like Maybelline, it's already assumed that this product works to some extent, since they wouldn't want to risk their reputation on a product that just plain doesn't work. Add to that the rather extensive amount of advertising that went along with this, and you've got a built in sales stream. There are plenty of competitors out there, but few boast the name brand that this does, and therefore they don't have as many years of experience in bringing cosmetics and make-up to market, so some of it is not just hype.
The Cost
They've got the suggested retail price for Illegal Length listed at $9, so you shouldn't pay more for it than that. Of course you can always find it discounted online, but be sure to factor shipping into your total cost. Overall though, when you size this up against competing lash lengtheners, it's not a bad price, and if it gives you the look that you're going for, you'll definitely add it to your must-have beauty product line-up.
The Commitment
They say that it only takes a few strokes to correctly apply this, so it's not as if you have to be a surgeon with the brush. They say that you should apply it all in one take, and not take a break between coats, putting on multiple coats in one go. They say that you can take it off with simple soap and water, or you can use a makeup remover to get the job done. They don't clarify how to take it off if you go with the waterproof formula, but perhaps that also comes off when soap or with a makeup remover.
Evaluation
The consensus seems to be that Illegal Length will work for you if you are starting with enough lashes to hold the fibers and build on your look. This wouldn't be the way to go if you have thinning lashes and are looking to bring them back to a normal state. This is an instance of the beautiful getting more beautiful. But all is not lost because there are lash builders that are specifically designed for those with thinning lashes, you just have to seek them out.
Final Illegal Length Review
We're giving Illegal Length our Solid Try rating, but with one condition. Be sure that you have the lashes to hold up these fibers, otherwise you're not going to like what you get. The way this works is that the fibers attach to your existing lashes, accentuating them and making them even longer. This means that if you want to get to the 4mm that they say is possible, you should start with a strong foundation of your own lashes, and not expect this to help you go from zero to heroine.
Our Recommendation
When it comes to your overall look, lashes can go a long way in bringing attention to your eyes, and really sell them if that's your moneymaker. Trying out different products is key, as you never know which one, or which combination of products will get you to where you want to be. Try not to place too much emphasis on any one item, and take more of an experimental approach. At this price point it's definitely worth a try, unless you just don't have the lashes for it, as explained above.
What do you think? Does Illegal Length work or not?