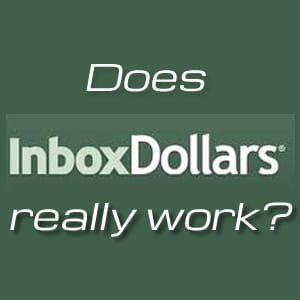 The concept behind Inbox Dollars sounds pretty great, get paid for doing stuff you already do online anyway, like read emails and play games. But this definitely sounds too good to be true, why would someone pay you money to do such mundane tasks, and how much could you really earn, realistically speaking?
Overview
What makes Inbox Dollars different from a lot of the popular paid to do stuff websites out there, is that they're combining a lot of different ways to make money under one umbrella. You can take surveys, read emails, play games, use their toolbar to make searches, sign up for offers, and use their coupons, all result in an increase in your account balance. So what's the catch, and is it worth it to sign up even with the catch in place?
The Claim
The claim is that you can earn money from jumping through their various hoops, taking surveys, watching videos, confirming emails, etc. They don't really come out and promise you a full time income from using their service, and they don't allow having multiple accounts, so it's merely there as a way to make a few extra bucks a month, not as a way to replace your day job with online income.
The Hype
There are those out there, likely shills for Inbox Dollars, that passionately refute claims that Inbox Dollars is a scam and they don't pay out even after you accumulate enough earnings. There are also those that have posted pictures of the checks they have received from cashing out their earnings. This creates some hype around the site, leading people to believe their days will soon be filled sipping pina coladas by the pool while checking emails and playing games.
The Cost
It's free to get signed up and get started with Inbox Dollars, and there are even guides out there that show you how to make your first $30 in just 30 minutes. The guide itself is a little outdated, as the offers it mentions are not available any more. Our best attempt only got us to $5.67 before we hit the wall of having to enter in more information than we were comfortable with to earn a dollar.
The Commitment
This is what will separate the men and women from the boys and girls. If you want to make a steady income from Inbox Dollars, and by that we mean just a hundred dollars or so a month, you'll have to commit yourself to several hours of form filling, game playing, hoop jumping, video watching, and anything else they throw at you. You'll also have to keep that credit card handy and fearlessly enter it in to dozens of offers, remembering to cancel your trials if you don't want the service. It's all too much for us, and we're going to leave the $5.67 in our account alone, never to return.
Evaluation
After signing up, which took about 1 minute, we had to confirm our email address, and then they credited us with the $5. Next, we took their introductory survey which gave us another $1. The website seems very technically sound. For example, after watching their video on how to make money with Inbox Dollars, it automatically updated our checklist to show that we had watched it. Also, it automatically updated that same checklist to show that we had confirmed the paid email that they sent us, and again when we did our first search using their search function.
We like that you can browse the offers by the ones that are 100% free to try. With some of these you still need to provide your credit card information, but there is no initial outlay of cash needed, and all that's required is to cancel the service before the trial period ends.
What you'll have to determine for yourself is whether or not all of this time spent going to all of these sites, entering all of your information, and submitting your payment details, only to try and keep track of which offers you need to cancel, is worth the few extra dollars that Inbox Dollars is willing to pay you. What's going on behind the scenes is that Inbox Dollars is collecting a fee from these companies each time you submit your information, so you are not getting the better of them by having them pay you your quarter or your dollar, they are likely getting their own dollar or more from having you fill it out, even if you decide to cancel the service later.
Final Inbox Dollars Review
There's little doubt that Inbox Dollars works. During our evaluation the site worked seamlessly, and was very user friendly. We didn't have any trouble signing up, or finding ways to increase our balance once we were registered. If you're comfortable with freely giving out your credit card details, then you can make money slowly with Inbox Dollars, and try out some services along the way. Is it the best use of your time? You'll have to be the judge of that.
Our Recommendation
Play around with Inbox Dollars for a day or so and get your initial payout. It's easy enough to get to $30 pretty quickly, if you stick to their 100% free to try offers, but anything after that will require more commitment on your part, and will have to go through a cost/benefit analysis in regards to how much your time is worth.
What do you think? Does Inbox Dollars work or not?