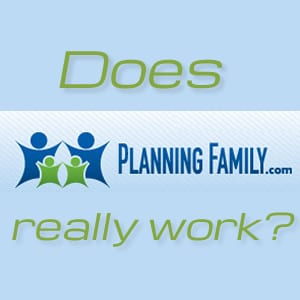 Getting pregnant, being pregnant, and caring for a newborn can take a lot out of you and Planning Family is designed to be an ally for you. The site promises week by week pregnancy information, as well as free stuff like formula and diapers to try out, and they also have a large directory of information and articles to answer your questions and give you tips. It's free to sign up, but is it worth it?
Overview
Getting ready for a new baby can be an exciting time, but it can also be overwhelming. There is so much that you need to know, and so many sources of information it can be hard to know who to trust. It can also get annoying jumping from site to site as you move through the different stages of trying to get pregnant, best practices for being pregnant, and what to do after you have your baby. Planning Family is positioning themselves to be the one-stop source for all of your information needs.
The Claim
They say that you can gain access to weekly health newsletters, some great offers, free samples, coupons and savings, but they don't go into great detail about what these might be. They do say that you can be eligible for diaper samples, and formula samples, which would come in handy when you're trying to decide which diapers work the best, and which formula your baby prefers, but it probably won't end up saving you a ton of money, and it's just as easy to try these products by getting a single pack of diapers, or one canister of formula.
The Cost
It's free to sign up for Planning Family, and all that is required is your mailing address, e-mail address, birth date, and your baby's due date. There's no doubt some offers, and samples that will require you to pay shipping, or pay to try out a service. But none of these are required in order to access the vast majority of information and tools available to you.
Evaluation
The first thing you'll notice about the site is that they've really thought of everything that's involved with planning a family, from start to finish. They have articles on what to do before you get pregnant, including how to better your chances. They also have a good deal of information on what to expect while you're pregnant. After you have your baby, you can turn to them for tips and advice on what is best for your newborn.
They also give equal weight to general question like what to feed yourself while you're pregnant, or your baby once you give birth, but also more philosophical questions like what is the best way to raise your child, and be a family in these modern times. They don't desert you during the terrible twos and even have a section on toddlers. Don't forget about the parents either – that's you. They have a section for parenting as well, which is really important, and something many people don't read up on and just end up winging it.
What We Like
One thing we like about their sign up process is that most sites out there just want your name and email address, and then put you on a generic auto-generated newsletter. Planning Family is different, they ask for more information, but they actually use this information to tailor their mailings to you. It makes sense. There's no point in being a few weeks behind on their pregnancy newsletter, so they ask you for your baby's due date if you're expecting and they start you off on the right page so the information you get is accurate and timely.
What We Don't Like
The free baby stuff seems a little gimmicky, and if that's all that they had to offer it wouldn't be worth signing up for. We think they should focus more on highlighting some of the premium content they offer, and the useful tools they have. The baby name tool is just one thing I found useful, and I didn't even have to sign up to access it.
Final Planning Family Review
We're giving a thumbs up to Planning Family because they offer a good value for a free membership. Of course there are advertisements at the site to help defray the cost and even earn them a profit, but with a wealth of information and potential free stuff you can get, this is a very easy decision.
They really push all the freebies like diaper samples, formula samples, and coupons for baby stuff but for us it is the information that is most valuable, and what keeps us going back to the site as we have more questions. Sometimes we even visit just to learn something we weren't aware of before. We think the process of raising a family and being a family is a little easier thanks to them. I credit them for educating my husband on some issues, which took the burden off of me for at least 30 minutes.
Our Recommendation
It doesn't hurt to get started with Planning Family, since free and easy to unsubscribe if you find you don't like it. They have lots of good information, and it's well organized so you don't have to go hunting around for things. It's also well thought out you can learn a lot about what to expect during pregnancy, and afterwords as you are raising your child. We like that they haven't left out the father on this one, and there are plenty of articles geared towards fatherhood.
What do you think? Does Planning Family work or not?