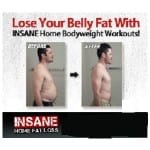 Insane Home Fat Loss has a sort of underground feel to it, which might be refreshing if you've been let down by some of those flashy programs that are all sleek packaging but ineffective once you try them out. The creator of the program has a popular YouTube channel that gives tips and tricks on how to lose weight and get in shape. So was he able to successfully create his own comprehensive program, or can you learn more from his free videos?
Overview
Most fitness gurus come out of nowhere and are catapulted to near stardom just by being featured in a hit workout program. But not Mike Chang, the creator of this program. He's been in the trenches providing a lot of value in the form of fitness tips and how to eat healthy, providing this information for free on YouTube, and becoming known for his blunt style and ability to get make sense and get people motivated. Let's see if he's able to translate this to a successful at-home workout program.
The Claim
Insane Home Fat Loss makes a lot of similar claims to other workout and fitness programs. You know the list: lose fat, gain muscle, have more energy, know the right foods to eat, no which foods to avoid, etc. There's also the obligatory backstory of the creator that used to be fat and then cracked the code on fat loss and is here to share what they learned with you.
The Hype
Getting a YouTube channel to over 74,000 subscribers is no easy feat. This will generate enough hype of its own when you're pushing 5 million video views. But aside from all of that, there's no much hype here, no flashy infomercial promising you nearly instant results. Just a guy telling his story and trying to convince you to try his program.
The Cost
Insane Home Fat Loss is $67 for the complete kit. They sign you up for a free month of coaching, but if you don't cancel within 30 days they'll charge you $67 monthly to stay on with it. It's important to point out that the program and the coaching are two separate entities, even though they're the same price. You still get to keep and use the program, and can cancel the coaching if you don't find it useful after the first month.
The whole thing is backed by a 60 day guarantee, which gives you ample time to try it out and see some impressive results, or you have the right to return it so you're not left high and dry with no results and $67 less in your pockets.
The Commitment
He's pretty straightforward and comes right out and says that this is no miracle program that will get you results without dieting and exercising. So you've been warned that you're going to have to act on the advice that he gives you, and not just read it and watch it but then do nothing. Fortunately he tries to make it as easy as possible, without a bunch of complicated eating strategies, and only needing a towel to complete the workouts.
Evaluation
What's nice about Insane Home Fat Loss is that you can pre-evaluate this a ton by looking at all of his YouTube videos to see if you like the sound of his voice, the way he gives instructions, and the eating tips he shares. If you're on board with all of that, it only makes sense to try out his comprehensive system. With other workout programs you are basically shooting blindly and hoping you'll like the trainer and their teachig style, and you're assuming that they know their stuff.
Who to Trust?
With so much misinformation out there, it's hard to know where to get your advice from. The best way to evaluate it is to take some free info, apply it, and if it works you can try another tip. If you start to see a pattern emerge where the free advice they're giving you is paying dividends, it's only logical that the paid info is solid. This is something that wasn't available to those in previous generations that just had to make their purchasing decisions based on intuition and sales pitches.
Final Insane Home Fat Loss Review
Insane Home Fat Loss is getting our Thumbs Up review. Mike Chang is the real deal, and if looking at his physique doesn't prove it to you, watching him perform exercises with proper form and technique should do the trick. The nice part is that if you get this and don't like it, it's easy enough to request a refund and you can undo the whole thing. But promise yourself that you'll put this to the test, and not just skim through it and let your brain talk you out of even trying it.
Our Recommendation
Spend about an hour going through his free videos on YouTube. If you click with this style and delivery, pull the trigger on this and go for it. The thing about this guy is that he's genuine, he's not one way in his YouTube videos and then another way in his program, it's all the same guy so you can get a good feel for his personality and the way he teaches. He also has a lot of good tips, and not the same recycled garbage you get in other programs.
Official Website: Insane Home Fat Loss
What do you think? Does Insane Home Fat Loss work or not?