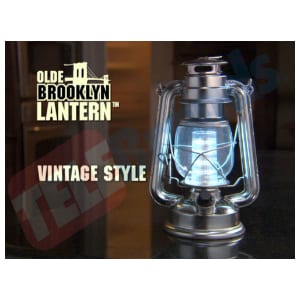 The Olde Brooklyn Lantern combines an old turn of the century lantern with today's LED lighting technology. This let's you get the benefits of an LED light, but the handiness and styling of a lantern. It's easy to see how this could be useful in certain situations, but we looked at what people are really saying about it.
Overview
The first scenario where this would come in handy is if the power goes out. This would make a great replacement for your indoor home lighting, brightening up the room and allowing you to do what you were doing before the power went out. It would also be good for camping trips, or any other time you're outdoors and in need of a light. What makes it unique is that it has powerful lights, but it's contained in a real lantern case, design that has stood the test of time.
The Claim
The folks behind Olde Brooklyn Lantern claim that you'll be able to get a nice soft glow and the look of an antique lantern without having to worry about causing a fire. They say that no matter how long you keep it on, it will always be cool when you touch it. They also say that it has a dimmer so you can control how much light you get, similar to the way you can adjust the flame on a real lantern.
They also say that the bulbs last up to 100,000 hours without needing to be replaced. The D-sized batteries it requires will likely not last for 100,000 hours, and represent an ongoing cost of ownership. They say that the base of the lantern is made in a similar fashion to the way they used to make them in the past, with actual metal. Not much is made out of metal these days, so it really is a blast from the past.
The Hype
The idea of having a high tech lantern is pretty novel at first, but at the end of the day this is just a portable LED lamp without a lot of bells and whistles. There are other LED lamps that come with a remote control so that you can put them anywhere and turn it off and on remotely. With the Olde Brooklyn you're not getting a lot of frills, aside from the dimmer ability.
The Cost
You get two Olde Brooklyn Lanterns for $30, shipped right to your door. They say it comes with a money back guarantee, so you don't have to worry if they don't work, or if you don't like the way they perform. Some people like LED lights, while others prefer incandescent bulbs which create more of a warm atmosphere. They're also including a $15 gift card for other As Seen on TV products, so if you've had your eye on something else you can get a pretty good discount on it.
The Commitment
All that you would really have to do is install the batteries and put this in a handy place that you'll be able to get to easily if the electricity goes out. You'll also have to replace the batteries when they wear out. You'll also have to lug it around from place to place, and room to room if the power goes out.
Evaluation
LED lanterns are all the rage these days, and there are several different models you can go with. The big draw to the Olde Brooklyn Lantern is its antique look. It gives a rustic charm to your home or cottage if you've got that antique theme going on, yet it's practical and avoids a lot of the problems of having a traditional lantern that uses gas or kerosene and an open flame.
Final Olde Brooklyn Lantern Review
The Olde Brooklyn Lantern takes a design that worked and brings it back to life upgraded with the new lighting technology we have available these days. You can hang this up with its included ring, and the old fashioned medal handle it has makes carrying it easy, and gives you the feel of living in olden times. It's definitely worth getting if your home has an antique theme going on, or if you think it's stylish and just want to have it.
Our Recommendation
Having a pair of these handy for $30 seems like a pretty good deal. It's great to have around, and you can put them out on the patio for nighttime lighting, or in the bedroom so you can light your way without having to turn on lights in the middle of the night. Basically, if you can see yourself using this, we'd say go for it because there have been no complaints lodged that say it doesn't do what it says it can.
Read user reviews on the Olde Brooklyn Lantern
If you are looking for an alternative to the Olde Brooklyn Lantern, take a look at this highly reviewed LED lantern from WeatherRite.
What do you think? Does the Olde Brooklyn Lantern work or not?