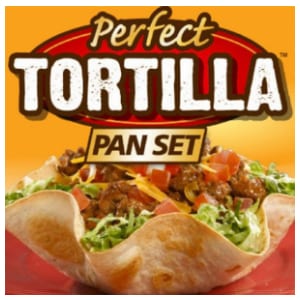 The Perfect Tortilla Pan is designed to allow you to make tortilla shells in the shape of a bowl so you can make things like taco salads. If you've ever tried making these at home using a different method, you probably got spotty results. So can this really make the perfect tortilla every time?
Overview
If your family loves having Mexican night and you've wished you could make them something a little more fancy than hard or soft taco shells all the time, this probably caught your eye. This is because it makes those restaurant-style taco bowl that are always so yummy and crispy and are a big reason why they get ordered. But one drawback to them is that they're usually fried, which is why they taste so good. If only there were a way to get the same sort of taste, but without the added fat and calories of frying…
The Claim
The Perfect Tortilla Pan claims that you can get a delicious tasting tortilla without using the fryer by baking the shells in its custom-fitted pans, and in just 5 minutes or so. They show a ton of different ways you can use this, and say that all will be revealed in their recipe guides so you won't be stuck making the same things over and over. They also say that it has a non-stick coating so you are assured of a flawless experience every time and won't be stuck trying to pry off the shells and having them crack on you.
The Hype
The hype is that it really only does one thing, and it's up to you to build on it and create yummy taco creations using the shell. It comes with some recipe books so you can get a lot of use out of it, but eventually you will run out of ways to be creative with it. Most likely though you'll find one or two dishes that your family really likes and just keep making the same ones again and again as requested.
The Cost
Your get a total of four Perfect Tortilla Pans plus two recipe books, plus a Cut n Cup for $26 which includes shipping. You can find similar pans for sale online for about $22 for a set of four of them, so you're not paying too much more for these, and they're tossing in the slicer for good measure.
The Commitment
You'll want to commit to going through the recipe book because they've got some tasty selections in there. It can be hard coming up with ways to use these, but even if you only try a few new things you'll be getting your money's worth. The baked pasta bowl and the chili bowl look amazing, and would definitely be worth trying out.
Evaluation
The Perfect Tortilla Pan works well by all accounts. Of course it's not going to be able to replicate the same taste as a fried tortilla, but having it baked to a golden brown will give it a nice baked flavor and will add to the taste of your meal, more so than using an ordinary taco shell or tortilla chips for dips and tacos.
In the world of kitchen gadgets there are the essential and the nonessential items. This would qualifies a nonessential one, but one that you might wonder how you went without it for so long. If you love Mexican food then you'll definitely want to add this to your kitchen so you can have these whenever you want. Some families have even been known to have "bowl night" where they try out a different bowl recipe each week as something new.
Final Perfect Tortilla Pan Review
The Perfect Tortilla Pan is getting a Try rating from us, based on how well people are saying it works, and how it can help make a fun and tasty meal for you and your family. Even if you turn ordinary taco night into taco bowl night it will be worth the price. It's not rocket science here, they've just made a non-stick bowl in the shape of a fajita bowl, so all you have to do is drop the tortilla into it, and bake it as shown.
Our Recommendation
At the end of the day this isn't your only choice when it comes to a tortilla baking pan, but it makes a strong case for itself. If you go with a cheaper than cheap set you find elsewhere you might not get the same sort of non-stick coating, so you might find that it sticks to the pan and doesn't come out as good. If you liked this and wanted it when you saw the promo video, you'll likely enjoy it and get a good amount of use out of it.
What do you think? Does the Perfect Tortilla Pan work or not?