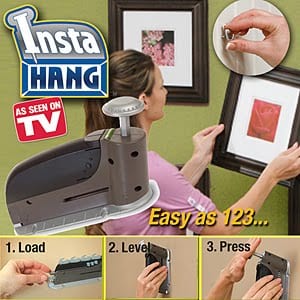 If you've always gotten fed up with hanging pictures and other items around your house, you probably don't have an InstaHang yet. It can be hard trying to drive a nail or screw into the wall, getting it right where you want it, and having it be sturdy enough to hold what you want hung. The promise of the InstaHang is that you don't have to struggle any more, and that just about anybody can use it with ease. So we put it to the test to see if it lives up to these promises.
Overview
This is a pretty innovative new tool that offers a solution to using a hammer and nails, or relying on adhesive hooks to hang up anything and everything you can think of. It supposedly saves you time and money because you won't be damaging your walls, and you won't have to worry about things falling off the wall. You'll find it handy if you like to decorate your home, if you have a remodeling project coming up, if you just want to be more organized, or just as a way to simplify your life and make things a little easier.
The Claim
The makers of InstaHang say that it's easy to use: all you have to do is place it flush up against a wall, push the button and that's it you've got it hung. They say that it pretty much replaces the use of a hammer, and nails, wires or hooks that you'd normally be using to hang things around the home. Another advantage they mention is that the pegs it uses only leave a small pinhole, so you won't be leaving pencil sized holes from large nails, just to hang a picture.
They say that their pegs are pretty unique. They have a "super grip" which puts them at an upward angle so that it can effectively hold up a 10 pound object. They say it won't slip so you don't have to worry about what you hang up crashing to the floor. There's even a level right on it, so you can make sure that you get your pictures hung perfectly the first time. When it's time to take the picture down, there's a peg remover that pops them right out.
The Hype
The hype is that they make it look so easy in the infomercial, and you know that when it comes to these As Seen on TV products that most of them don't live up to their hype, and don't work at home the same way they show them working on TV. Either they use camera trickery, or clever editing, or create the ideal situation in the ad, and it just doesn't translate to using it in your own home in your own situation.
The Cost
The InstaHang is $31, which gets you everything you'll need in order to use it in your own home. It's easy to get drawn in by the $15 price, but you have to factor in the shipping and handling not only on the InstaHang unit but also on the bonus. You end up with a laser level tape measure and 50 extra tacks so you can use the InstaHang twice as much.
The Commitment
This is very easy to use, and compared to hanging things using other methods, it should actually represent less commitment on your part. When you think about all the time it takes to do a lousy job with a hammer and nails, it is refreshing to think that you can just use something like this and with one smack you're all set and can move on to the next task.
Evaluation
We saw the ad on TV and we just had to get one of our reviewers to put the InstaHang through its paces and give us the verdict. She said that it works just like it's shown to in the infomercial, and actually demonstrated how easy it is by hanging an actual picture in one of her bedrooms. This picture was over her head, and if you've ever tried to hit a nail on the head when it is well over your reach you know it is no easy task.
Our reviewer shows the InstaHang in action:

Seeing is believing, and the InstaHang passed the test. It comes with plenty of hooks, so if you've ever wanted to hang something, but didn't have the right tools, you'll finally get it where you want it. You can also go around your house and quickly rehang any questionable nails you have so that you can have peace of mind that they're stable and secure.
Final InstaHang Review
The InstaHang got put to the test and passed with flying colors. Checking other reviews we see that they came to the same conclusion as we did. There are some complaints lodged with the ordering process, but none with the product itself. As long as you know you're total cost is going to be around $31 you shouldn't be too surprised.
Our Recommendation
Pick up the InstaHang and keep it handy for all of your picture hanging needs. It really can help you transform your bathroom or bedroom, making it look much better with some nice decorations or pictures. Be careful when ordering from sites other than the official website, as there are cheap knock-offs being sold that don't work, and there are also refill kits being sold for less that claim to be the full kit.
What do you think? Does InstaHang work or not?