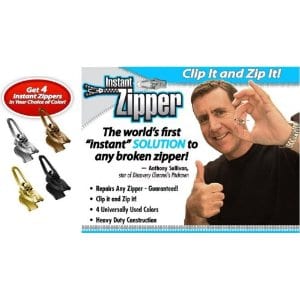 We all have that one garment that has a broken zipper, and Instant Zipper has come to the rescue. At least that's what they're trying to do with this novel invention. It's basically a replacement zipper that clips right onto your jacket, luggage, coat, and anything else that has a zipper that isn't working. But as simple as it seems, and as cheap as it is, isn't something you should buy, or take a pass on?
Overview
There's no really good way to replace a zipper on your own, the only other alternative is taking it into a tailor and paying top dollar for the repair. If you stopped wearing or using these items because of the zipper malfunction, you will definitely be happy to have them back in your wardrobe. There's little doubt that something like Instant Zipper is needed, but only if it works.
The Claim
They claim that it's only a two-step process, snap it on and zip it up. It comes in 4 different colors, so you can match it up to whatever it is you're fixing. Black is probably the most popular color ordered, but also silver, bronze, and gold are available. They also say that it will still work, even if your zipper is missing up to three teeth. This can be one of the biggest culprits when it comes to having a non-working zipper, if a tooth or two pops off, the zipper itself can't get over them and gets snagged.
The Hype
The hype comes from the fact that the Instant Zipper pitches itself pretty hard in its infomercial and makes it look like it works really easily, fixing the problem, well, in an instant.
The Cost
The total including shipping comes to $27, and if you order through the main website you can opt into their Instant Hem offer and pay $4 shipping to try it out. They also include lifetime replacement if your Instant Zipper happens to break and you need another one. This will definitely come with an additional shipping charge, but it's still worth it if it's working for you.
The kit comes with four different sizes so you're pretty much assured that you'll have the right size for whatever it is you're trying to repair.
They also have a video explaining how to remove your old zipper, which can be stuck on there pretty good even though it's no longer doing its job. This is pretty helpful, and can definitely help you if you're stuck getting that old zipper off.
Evaluation
The Instant Zipper is simple enough in design and concept, it basically just snaps over both parts of your zipper, bringing them together and functioning just like the original. They show people installing it with just one hand, because it just clips onto your zipper. They show several different examples, including luggage, a purse, a pair of boots, and more.
What People Are Saying
Instant Zipper is getting mixed reviews from those that have bought and tried it. Some people say it works exactly like it does in the infomercial, while others say it didn't work for them. Of course, it won't work in every single situation, so there will be those that report back with a negative review. However, it's definitely worth a shot before going out and replacing the item in question.
Final Instant Zipper Review
The Instant Zipper works for some, but not for others. The thing is that when it works, it works like a charm. When you consider the cost of a new leather jacket, or a new tent, or a new pair of shoes, it definitely makes sense to try it out before donating it to charity. It's definitely not just a coin flip, with the majority of people saying that it did work, so chances are it will work for you too.
Our Recommendation
If you have an expensive garment or your favorite piece of clothing with broken zipper, it's definitely worth a try to see if Instant Zipper does the trick. It's got a 30 day guarantee which is ample time to try it out, and to send it back if it doesn't work in your situation. We love it when there's a high reward possibility with low risk involved.
What do you think? Does Instant Zipper work or not?