The Schticky is pitched by Vince Offer, the same guy that made it big with the Slap Chop and ShamWow. It's basically a lint brush, but it promises that you can use it over and over again just by rinsing it off when it gets dirty. This would definitely be a welcome addition to any home that is prone to spills, either from pets or from kids. But does it work, or is this just a cleverly delivered as seen on TV product?
Overview
There's no doubt that the instance to use a Schticky pops up all of the time. Lint alone would make it worth it, but if you've got pets you were probably purchasing this in your head about 10 seconds into the infomercial before you thought it best to do some research first. The Schticky seems like it would be just the thing to have in a lot of different situations, but only if it does its job and stays sticky after many uses, and after many washes.
The Claim
They show the Schticky picking up all sorts of things, like cereal, hair off of carpet, spills in the pantry, and debris off of carpeted stairs. They claim that it's much better to have around than a simple lint roller, but that you can use it in place of one for similar situations, like getting lint and dandruff off of your shirt.
They also say that you'll save $100 a year by not having to replace your regular lint roller that's made from sticky paper. That's pretty outlandish, and few people probably spend anything near that amount per year. They might have claimed that you could save $50 a year, which would be twice as much as their total package costs, and be a little more feasible.
The Hype
The hype comes from Vince Offer, the guy could pitch himself out of a steel cage. He makes it look like a product you just can't live without, and has come up with lots of different examples of how you might use it. He also shows just how sticky it is by tossing it against a wall and having it stick there, as well as washing it off and showing that it still stays sticky.
The Cost
If you want the whole kit, it's $27 and you'll get the normal sized one, the mini sized one, and the big one. It's the big one that got our attention, especially when they go over the different surfaces without having to change tools. If you're going to get this, you might as well go all out and get the big Schticky too so you can try it out on bigger messes and get more done in less time.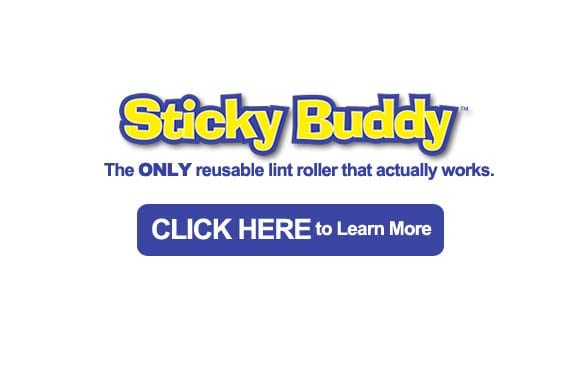 The Commitment
The Schticky should actually be a time saver, since in theory you'll be able to quickly clean up all sorts of things around your home without having to change from a broom, to a vacuum, to a lint-roller. Just remember to use it in the moment, because it can be easy to forget that you bought it, and revert to your usual way of cleaning up the messes in your life.
Evaluation
You'd think that this would work, and that the material would be available that actually does get slippery when when and sticky when dry. However, the overriding reports are that this just doesn't clean off as easily as is shown, and when it does dry it doesn't retain its stickiness
Common Complaints
Most people have reported that the Schticky gets dirty too quickly, takes too long to clean, and doesn't keep its stick after you clean it. These are pretty major offenses, and definitely detracts from the Schticky actually doing what it says it does, and working like advertised.
Final Schticky Review
The consensus is that this works, but it doesn't continue to work after just a few uses. This would make sense that it would work in the infomercial, because they would simply use a fresh Schticky for each take. However, the claim that it is washable and reusable is apparently invalid, and therefore makes it a no-go as far a purchase goes, and it gets a thumbs down from us.
Alternative Products to the Schticky
If you want a product like the Schticky, but one that actually works well, go with the Sticky Buddy.
What do you think? Does the Schticky work or not?