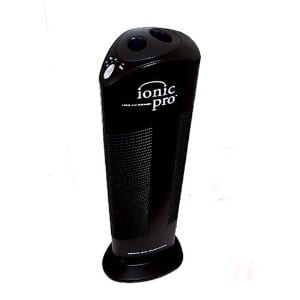 The Ionic Pro Air Purifier has the same sort of styling as the expensive models, but is not so big on the price. If you suffer from allergies, having an air purifier in your home, especially your bedroom, is a must. You don't want something that makes a ton of noise, but you also don't want to sacrifice performance either. Finding a purifier that works well, and keeps quiet can be hard. Let's see how this stacks up to the others.
Overview
Air purifiers make sense in today's day and age, as indoor air can be several times worse for you than fresh, outdoor air. If you live in a climate that prevents you from opening the doors and windows and letting in a crossbreeze, you really should invest in something that helps keep the indoor air clean. Incredibly hot climates like those in Arizona or Las Vegas mean you'll spend many months indoors with the air on. Arctic winters like those in Detroit or Boston will mean long periods of time cooped up with the heat on. It's important to make sure that the air is circulating, and staying clean.
The Claim
The Ionic Pro Air Purifier says that its filter works like a HEPA, and filters out things like smoke, pollen, and dust. Pollen and dust are some of the most common allergens that people are sensitive to. It claims that its UV light acts as a germicide, killing airborne viruses before they can reach you and cause things like colds and the flu. They also say that its filter can help reduce levels of indoor air pollution from common things like the chemicals you use to clean your home, and even paint fumes.
They go on to say that with the three different speeds it has, it provides quiet performance, without using up a lot of electricity. It also doesn't contain any filters that you need to replace again and again, so you have to keep than in mind when you consider the cost of using it. They say that it's silent, which would mean you can use it while you sleep and not have it keep you awake with its incessant hum.
The Hype
This particular model is getting its fair share of hype, because it is priced reasonably and is getting good reviews from those that have tried it out. Many people are a bit skeptical, because it's getting the kind of feedback that the expensive $400 to $500 models get, without taking advantage on the price.
The Cost
The Ionic Pro Air Purifier comes to a total cost of $210, but all that you need to put up in order to try it out is the $30 shipping. If you decide after 30 days that you want to keep it, there's 3 monthly payments of $60.
The Commitment
All that's needed on your part is to set it up and turn it on to your desired setting. We recommend keeping it on low to start off with, as this is the quietest setting, and uses the least amount of power. If you find that after a few days it's not getting the job done, bump it up to the next highest level and go from there. You have to remember that the air can only get so clean, so you don't want to waste the electricity, and wear the unit out more quickly if it's not necessary.
Evaluation
This seems to be a nice value for the dollar, and something that could find its way into many homes. Allergy sufferers in particular have praised this for reducing their number of outbreaks. If you suffer from allergies, you should combine this with a well-reviewed vacuum cleaner so that your home can be as free from allergens as possible. Even if you're not prone to allergies, this makes a great way to avoid the common cold, and just give you that peace of mind knowing you're doing your best to get rid of airborne contaminants and pollution.
The thought of breathing air that isn't filtered just might be enough of a push to get you to try this out. We like the idea of a risk-free trial, because there's just no way to be able to read other people's opinions and experiences on something like this. Only you can be the one to breath purified air that it provides, and this will be the only way to make an accurate decision on whether it's worth the price.
Final Ionic Pro Air Purifier Review
It's great when a product like this comes along, because it seems to be finding a happy place in regards to price and performance. We're giving the Ionic Pro Air Purifier a Thumbs Up, as it allows you to try it out so you don't have to make the decision on if it works or not without giving it a try. Only after using it in your own home or bedroom will you know for sure if it's a keeper.
Our Recommendation
At this price point, there's no reason not to give it a try. It's gotten better than average reviews, and many people rave about it. This is not something that people would just go gaga about over nothing. This kind of response means that it should have a noticeable effect on your allergies, as well as an overall feeling of well-being and energy from breathing fresher air.
What do you think? Does Ionic Pro Air Purifier work or not?