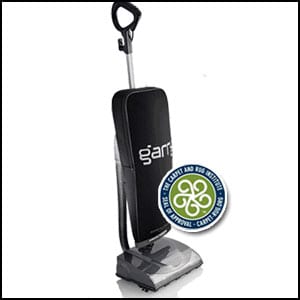 You may have seen the Garry Vacuum in all its glory on an extended infomercial. It probably got you at least a bit curious to see if a vacuum that is so light could provide the kind of suction power that is needed to deep clean your carpet the way they say it can. A good vacuum is basically the cornerstone to a clean home, so it pays to investigate your different options and see if the claims made by this unit actually get lived up to.
Overview
Upright vacuums are one of the most common models used in many homes across the country. They provide the power of a canister vac with the portability you need to quickly get through the different rooms of your home. One of the biggest qualities you want to look for is suction power, as well as how heavy the vacuum is. These two factors will greatly effect how easy or hard it is to get your home clean.
The Claim
The claims with the Garry Vacuum come fast and furious, so hold onto your chair. They say that their vacuum is not only lightweight, but that it provides powerful suction, and even purifies the air while you vacuum. They say you only have to make one pass over an area and it will clean it all in one go. With an agitating brush they say it loosens up stubborn messes so you don't have to fuss with them again and again.
They also claim to have a no hassle, no questions, replacement program in place, so if anything should ever go wrong with your vacuum, you can have a new one shipped out directly, just by paying shipping. The good thing about this program is that it covers misuse on your part. The bad part of this program is that you have to pay to have it shipped even if it's not your fault. Basically we're thinking the shipping charge is their break even cost of producing the vacuum.
One feature that they have is that you can get replacement bags shipped automatically, and you just pay shipping for them. The per bag costs breaks down to something quite reasonable, but some people might not like the thought of being automatically shipped and billed for a product.
The Hype
The hype comes mostly from their infomercial, in which they go through an impressive demonstration of the vacuum, and all of the different features. There's also a lot of hype by all of the "free" offers they make. We go into that below in the Free Should Mean Free section.
The Cost
The Garry Vacuum is $200, but they bill in in four installments of $50 and you only need to $40 up front to have it shipped to you for a 30 day trial. You can also get a "free" steam mop by paying $30 for shipping. Overall the price is not horrible, but you have to consider what sort of value you're getting for it.
The Commitment
Since it's pretty light, it isn't the hardest vacuum to move about your home, so it doesn't require any extra effort or energy on your part to use it. Depending on how bulky your current vacuum is, and how hard it is to maneuver a Garry could be making your life a little easier.
Evaluation
Consumer Reports tested out the Garry Vacuum, and they weren't altogether too impressed. It didn't score high marks in important aspects like deep cleaning. However, we're not really impressed with their suggestion of going with a name brand like Dirt Devil or Eureka as an alternative to it. These brand names got that way because their low priced and sold in department stores, not because they are high quality and do a good job.
Free Should Mean Free
Garry takes great liberty with the word free. In the infomercial they directly state that you get free replacements should anything go wrong with the vacuum. But this is not true. The whole "just pay shipping" can only go so far when it's a whopping $40 to ship it out. That's like a Lexus dealership offering a free replacement warranty with "Just pay shipping of $50,000." To hear Garry tell it, they're just giving stuff away: a Free Trial should be labeled $40 trial, free bags for life should be $10 bags for life, and free replacement program should be $40 replacement program.
Final Garry Vacuum Review
The overall consensus is that a Garry Vacuum is good, it's just not great. It will get the job done, but don't be blown away too much by their infomercial. For the price you are probably better off going with a Shark or put the money towards a Dyson. These will last you longer without having to worry about a warranty that makes you pay $40 to take advantage of it. We do give them credit for coming up with a great marketing campaign, and for cleverly wording things like "Free" and "Warranty" when it in fact benefits the company each time you use it.
Our Recommendation
For the price, we recommend going with the Shark Navigator Lift-Away as a premium vacuum that won't break the bank, but should provide years of worry-free use, and a clean home. You get a high quality vacuum at a fair price, and you don't get swept away with any gimmicks. Tons of people are giving the Shark top reviews, and we came to the same conclusion.
What do you think? Does Garry Vacuum work or not?