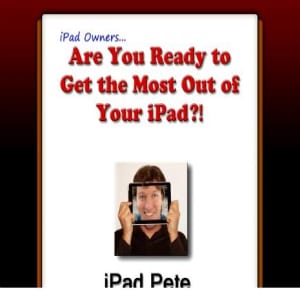 iPad Video Lessons promises to show you how to get the most out of your new, fairly expensive toy. There's always new apps being developed not just for the iPad but for all Apple devices. There are games and other apps specifically for entertainment purposes, but then there are others that are geared towards productivity and organizing your life. Knowing which ones to use and how to use them can be tricky. This course says it can help, but how much does it really teach you?
Overview
Apple is restless when it comes to putting out new devices, and it can be quite the footrace trying to keep up with all of their updates and releases. If you've got yourself one of their iPads, you may feel like there is a lot you could be doing with it, but don't know about. If you've gotten into the habit of only checking your email, browsing the web, and watching an occasional movie on it, there's lots more you're missing, and you might need someone to show you the way.
The Claim
The claim of iPad Video Lessons is that by following their step-by-step tutorials you'll be a certified pro at using your iPad. The course includes all the information you need about your iPad, including web tips and browsing tricks, the best way to read your email, how to read ebooks on your iPad, using all of the apps that are available for it, being productive with it, listening to music and downloading podcasts, as well as viewing and organizing your photos. It even shows you how to watch videos and movies right on your iPad, as well as the best way to use online maps like Google Maps.
There's even sections on how to use iOS5, and iCloud, so you won't be scratching your head when you hear about those online. There also a section on how to backup and sync your iPad with other devices you use, including your home computer. They also show you how to use a reminder's application so you don't forget important dates and events anymore. If you're a total newbie with the iPad or just gadgets in general, they have bootcamp training that will get you up to snuff in no time.
The Hype
The hype is that most people can figure out how their iPod works just by using it long enough. The premise here is that you can shorten the time it takes to learn about all of the functions and features of the iPad so you don't waste any time using it at less than its full potential.
The Cost
The cost of all of this training is $97 and is processed through ClickBank so you have a full 2 months to try it out and see if you like it enough to keep it.
The Commitment
You will have to spend the time it takes to watch the video lessons and try out the different features that interest you. While they seem to have made it as easy as possible to access and watch the videos, you will still need to invest the time in it.
Evaluation
We like that they've made this training using videos. This lets you watch them right on your iPad so you can easily learn something, hit the pause button, go try it out, and then come back right where you left off. We also like that they include segments on how to be more productive with your iPad. Sure it's great for games and movies and all sorts of fun stuff, but it's also something you can use to get work done while you're on the go, or while you're in a comfy spot on the couch.
It's good that you don't have to pay a monthly fee for these, and that your one-off payment is good for life, including any extra modules that get added to the training. Apple is always updating their devices and software, so you can be sure if they update their software, there will be an updated tutorial showing you how to upgrade your device and going over any new changes that were made.
If you're pretty tech savvy, you probably don't need this, as he does hold your hand and guide you through things in a rudimentary way. You can always skip ahead, or skip past parts you're not interested in, so there is some value for the gadget-minded out there, but this is really geared towards those that feel a little overwhelmed with their new device.
Final iPad Video Lessons Review
The iPad Video Lessons seems like a winner, but only if you're truly inept with your iPad, and aren't ashamed to admit it. With over 100 videos you're looking at less than $1 per video, plus lifetime access to anything that gets released in the future. It's not a bad deal, since you've already invested hundreds of dollars into your iPad, and you're potentially leaving a lot of cool features on the table if you don't know about them, or how to use them properly.
Our Recommendation
Pick this up if you think it will improve your iPad experience. It's covered by ClickBank, so you can go through all of the training for a full 60 days and if you really don't think you've learned enough to justify the price tag, just get your money back with no hassles. You get to keep anything you did learn as a bonus.
What do you think? Do iPad Video Lessons work or not?