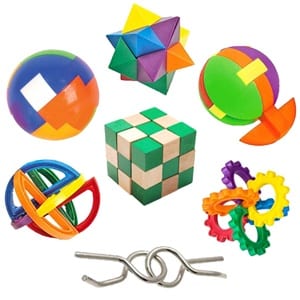 There is no doubt that we can spend a ton of money on toys to keep the kids occupied and some work better than others. Often when making the choices we want something that is educational but the focus should also be on those that are stimulating and will challenge them. A good selection for those that are aged five and up just may be the IQ Challenge Set by Gamie USA.
Overview
The IQ Challenge Set by Gamie USA is a collection of 7 puzzles for those five years of age and up that are real brain teasers. It looks like a simple toy but it is amazing at just how many hours a young one may devote to this.
The Claim
The promoters claim that it will challenge your youngster through reasoning for problem solving. It is said to help increase their mental stamina. Once they have mastered a puzzle it will build their self confidence.
The Hype
The hype really focuses around the mental stimulation of problem solving. There are tons of games that the kids can play that will do the same thing but the IQ Challenge Set by Gamie USA is actually seven puzzles in one and the youngster is playing against themselves, and not an opponent.
The Cost
The IQ Challenge Set by Gamie USA only costs $13.95 which is great when you consider all that it has to offer.
The Commitment
Depending on the age of your youngster you may have to work with them a little bit to get them started and to be able to familiarize themselves with what they have to do with the pieces of the puzzle.
Evaluation
There is a lot to be said about the IQ Challenge Set by Gamie USA. It is a compact toy so you can take it with you wherever you go. When you are setting the kids up for some quiet play then this is the toy you are going to want to turn to.
Final IQ Challenge Set by Gamie USA Review
We are going to give the IQ Challenge Set by Gamie USA a thumbs up rating. There are a lot of things that we like about it. It is well made and you are getting great value for the money. It is sure to intrigue the kids. While it still appears to be new on Amazon it has already become a best seller and has a four star rating. One of the added bonuses is the kids get to win prizes for solving some of the prizes. This in itself will act as a great incentive for getting the kids to follow through with the puzzle solving.
Our Recommendation
If you are looking to buy an inexpensive gift for the kids in the 5+ age group you really can't go wrong with this one. We have talked about a lot of educational toys in the past but this is becoming one of our favorites. If your kids are into the craft scene and what to participate in an activity that doesn't present too much of a challenge but is fun then check out the Sparkleez.
What do you think? Does the IQ Challenge Set by Gamie USA work or not?