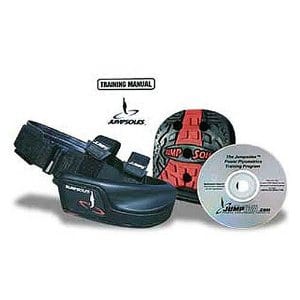 If your dream is to join the NBA or just be able to dunk to impress your friends or make the high school team, Jumpsoles want to help you get there. They are specially designed shoe attachments that are supposed to maximize the muscles the help with your vertical leap. There are specific exercises they recommend you do while wearing the shoes, and it's all supposed to get you jumping higher. But do they really work?
Overview
It's no doubt that some people are just born with a natural ability for jumping. A quick look at some of the NBA greats like Michael Jordan, Kobe Bryant, or LeBron James makes it easy to see that they don't owe their success to something like Jumpsoles. But what about those of us that weren't born with the natural gift of mad ups? Is it possible to train the body to jump higher, and if so, does a pair of specialty shoe enhancers like Jumpsoles make the process more effective?
The Claim
Jumpsoles says that their specially designed plyometric shoes will increase your vertical anywhere from 5-10 inches or more. They say that they have helped thousands of guys be able to dunk, and that the secret is in plyometrics. However, these aren't the only platform training shoes out there that shift a lot of the weight and responsibility to your calves.
The Hype
There's a lot of hype surrounding this, because the desire to have hops like your favorite basketball players is a strong one. But there's also hype from all of the claims, and all of the videos where they show guys dunking and saying it's from using Jumpsoles.
The Cost
It's $100 for the basic version of Jumpsoles, which gets you the shoe attachments and the user manual. You can upgrade to the next level for $50 more and you'll also get what they call a Proprioceptor which is designed to help strengthen your ankles and feet by creating instability. If you really want to go all out it's $170 for everything plus they throw in some extra exercise videos and manuals so you can get the edge on everyone else out there. We recommend at least going with the upgrade, and not opting for the basic kit with just the shoes.
You can also add on a jump box, which is a 2 foot by 2 foot stool that is used in several of the exercises shown in the videos. That's an extra $130. So for $300 you can own everything they make.
The Commitment
Jumpsoles won't work if you wear them while playing NBA Jam on your Xbox 360, you have to commit to doing all of the workouts, and doing them every day or every other day so your muscles can develop.
Video Testimonials
The official site shows many people providing video testimonials saying that Jumpsoles is the reason they're able to dunk. They then show several guys dunk basketballs. The assumption is that these are real testimonials, but unfortunately it would be far too easy to find someone that can already dunk and get them to say that they used Jumpsoles to do it.
A better way to promote the product would be to have documented the jumping ability of someone that couldn't dunk, and then show that same person being able to dunk, or at least jump much higher after using Jumpsoles. Sort of like a before and after video.
Final Jumpsoles Review
If you've been looking for a way to increase your speed, your vertical leap, and your athleticism in general, the Jumpsoles system will definitely help get you there. It puts your legs and feet in a position that enables your calves and smaller muscles around your ankles to take the brunt of the load. The result is that you'll have more spring to your leaps, allowing you to jump higher than before.
Our Recommendation
If you know you can be dedicated enough to use these on a regular basis, and put the time and work required to get where you want to be, definitely get them. While you may never reach the NBA, few do, and you'll have a lot of fun trying and seeing all of your progress. Even if this just lets you be able to dunk when you wouldn't be able to otherwise, it's worth it.
What do you think? Does Jumpsoles work or not?