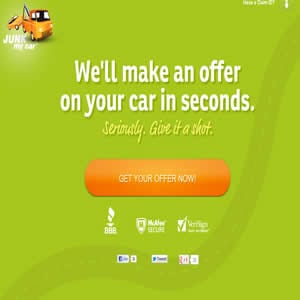 If you're getting frustrated with the process of selling your car, Junk My Car is promising to make it easy for you. So when you can't get top dollar for your car for whatever reason, and you're not well versed when it comes to dealing with junk yards and towing companies, should you try something like Junk My Car?
Overview
If you have a car that's seen better days, the thought of trying to find someone that will want to take it off your hands for you can be a bit overwhelming. When you think that your only option is to junk it, that comes with it's own problems, namely paying to have it towed, and getting the lowest amount for your car possible.
The Claim
There are some bold claims made by Junk My Car, perhaps the biggest one being that they say they are the fastest and easiest way to sell a car period. They also claim that you can get paid for your car and have it picked up the same day in some cases.
The Hype
They hype is that they are pretty much the only company that is doing something like this nationwide. They say that no matter where you live, they can get a local company to come out and take your car away, leaving you with payment in hand so you can rest at ease. If that isn't enough hype for a business, who knows what is.
The Cost
Getting an offer is free, so the only cost you have to weigh is whether or not you can get a better offer from somewhere else, or if Junk My Car is low-balling you.
The Commitment
The Junk My Car system focuses primarily on your lack of involvement in the transaction. Fill out the form online, someone comes out and takes your car away. You don't have to run an ad in the newspaper or online classifieds, or Craigslist, you can just get it out of your mind and move on to more pressing matters.
Evaluation
The site functions really smoothly, and before you even realize it you've answered their handful of questions and you have a provisional quote from them. Obviously they have to come out and verify that what you told them is accurate, but that shouldn't take too long for them to do since most of the questions involve things that are easily identifiable. They don't care how many miles are on the car, or whether you're a smoker or a nonsmoker. All of that is too detailed for them.
Things We Like
We like that after all of this time they are still a member of the Better Business Bureau. We also like how easy it is to get an idea of what your car is worth, in about 20 seconds, with no obligation.
We also like that they can make an offer asking the bare minimum of questions. They have a lot of experience dealing with junkers, and only have a few questions that can lower the price of their offer. They want to know if the tires are inflated, if the car is drive-able, if the body panels are all there, if it has any big dents, if the glass is still there, and if there is any flood or fire damage. They also want to know if the inside of the car is all there or not. Pretty basic stuff, and all easily answered with a simple yes or no, with no hemming or hawwing, and no gray areas.
When compared to Kelly Blue Book value they are way below, but when selling your car to someone else as something they can drive and use daily, that's different. It appears that Junk My Car assumes that you car is pretty much unsalable, and that you just want it out of your hair and want enough cash so you don't feel taken advantage of.
Things We Don't Like
Junk My Car is almost too sleek. They are like junk car selling meets Web 2.0. You get the feeling like they've done this before and have it down to a science. Compared to how frustrating it is to sell your car on your own, especially when it has defects that you hope the buyer doesn't learn about, having someone come in and take your problem away the same day seems almost a little fishy.
Final Junk My Car Review
If you've been trying to get rid of your car at a fair price, but with no luck, you might want to consider going with Junk My Car. Will they give you top dollar on your car? Probably not. Will they give you a fair amount for it, and take it away for you with no hassle and without you paying anything to do so? Absolutely.
Our Recommendation
There's no obligation on your part to take the offer they give you. Why not get it and know what the lowest offer you'll get is? You can always shop your car around after getting an offer from Junk My Car, and if you don't like those other offers you can always go back and take them up on it. Of course you know that they are trying to make a profit, so they aren't going to give you a ton of money, they have to leave room for themselves to get paid as well. What this is is just a nice and tidy way to get rid of your car and still feel good about the transaction when it's done.
What do you think? Does Junk My Car work or not?