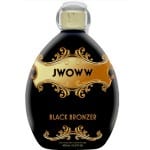 Will JWOWW tanning lotion help you get that perfect color? Using a tanning lotion can be a great way to accentuate the color you get from the tanning salon using the tanning bed. Seeing JWOWW do her thing on TV may lead you to wanting that same bronze color, but can you get it from a bottle?
Overview
JWOWW tanning lotion currently has four different products for you to choose from. They all have the JWOWW name attached to them. You might recognize this as the moniker of Jenni Farley from Jersey Shore. She always looks like she just came from a tanning bed, the beach, or uses a self tanner at home. It only makes sense that she would endorse a line of tanning lotions and skin care products, and here they are:
Black Bronzer
She has the Black Bronzer which they say will have people looking at you and you will be able to break some hearts with your newfound dark color. They claim that the darkening is extreme, but they also offer a similar product that promises to be 50 times stronger.
50X Black Bronzer
Her 50X Black Bronzer is supposed to be much more powerful than the regular strength, and is designed to give you a more radiant tone. It is set to release shortly, and had better live up to its expectations. Their original Black Bronzer set the bar pretty high in regards to effectiveness, so it will be interesting to see if they can outdo themselves.
Dark Instant Sunless Spray
Next is the Dark Instant Sunless Spray, and they say that you can use this even when the sun is not shining to maintain your bronze look. It will not only give you a tan right now but it also has a delayed effect so that it lasts, and will actually get darker over time. They also say that it will dry quickly so you don't have to worry about having it stain your clothes.
Daily Beauty Maintenance
Their Daily Beauty Maintenance Pack has three separate products. One washes your face, the other is for your eyes, and the third is a moisturizer for your face. This isn't a tanning package, it's more for skin care in general.
The Claim
The claim of most tanning lotions is that they will accentuate your tan, or give you a darker tone without having to tan as much, or at all. JWOWW tanning lotion doesn't go overboard on their claims, and basically states that their lotions will leave your skin feeling softer and smoother, and that you'll have a beautiful bronze glow.
The Hype
The hype comes from the TV personality known on the Jersey Shore as JWOWW. She lends not just her name to the product, but her attitude and style. Plus, it would only be assumed by viewers and buyers of her tanning lotions that these are the products she uses herself to get her tanned look that you can see on the show.
It's important to note that because of her celebrity status, Jenni likely has professionals helping her keep up the maintenance of having a glowing skin tone. It is the result of make-up, tanning lotions, going to the beach, using tanning beds, and other tricks of the trade, and not exclusively from using JWOWW tanning lotion.
The Cost
JWOWW tanning lotion is rather expensive when compared to similar brands like Paint It Black. You can grab a bottle of it for $22 from Amazon and add just a few dollars more to your order to get the free shipping on it.
The Commitment
You have to stay committed to giving yourself that perfect tan. This can entail several trips to the tanning salon, using a bronzer like these to get better results, and keeping up with it daily, or at least every other day. It can be expensive and exhausting to maintain, so be sure it's something you really want before you jump on board with JWOWW tanning lotion.
Evaluation
This product is made by Australia Gold, which has a long and strong reputation in the sun and skincare industry. JWOWW is just licensing her name and collecting some royalties by promoting and endorsing it. This means that you are assured of getting a high-quality product, and not something that she created out of her bedroom or something.
From what we can determine, the products are of high quality, and perform as expected, or in many cases better than expected, leaving the skin with a natural-looking glow, soft to the touch, and smelling great.
Non-affiliated review by a real user:

Final JWOWW Tanning Lotion Review
The reviews are in, and whatever your feelings are about JWOWW, her tanning lotion works. There are very few people that say it didn't work out for them, with most people stating that it works better than they expected. Even the people that said it didn't live up to their expectations still had nice things to say about either the smell, or the way it made their skin feel.
You'll always get some dissenters with a product as popular as this. Either they expected the world and were disappointed with the results, or they just didn't use the product properly. Or perhaps the skin tone they started at was not conducive to the bronzer. There are so many varying skin types that it would be impossible for a product of this nature to please everyone.
We can say that the positive results are statistically significant. There is a large proportion of rave reviews, and also some people that simply said it worked great for them.
Our Recommendation
If you are into tanning, or always wished you could have tanned skin like the girls on Jersey Shore, these are the products for you. It's not as if JWOWW is making them out of her house, she's basically just licensing her name to Australia Gold, which produces and manufactures the product. This way you know that it's got an actual company behind it with a long track record of making both sunscreens and salon tanning lotions.

What do you think? Does JWOWW Tanning Lotion work or not?