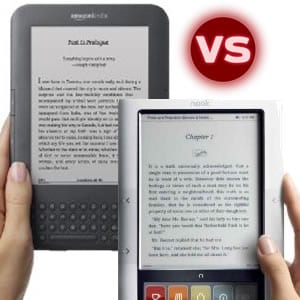 The Kindle vs. Nook battle is tough to pin down because both Amazon and Barnes and Noble are both contributing furiously to the arms race. We're going to assume that for whatever reason you've already knocked off the iPad Mini and the Google Nexus 7 or 10 from your list of possibilities.
The Tale of the Tape
Eventually there will be one device to rule them all, one portable gadget that does every single thing you want it to. Right now it looks like it will be a smartphone, but there's still room for e-readers, especially if they come with the sort of features and functions that the new Kindles and Nooks do.
Kindle Weigh In
The Kindle started off humbly enough, with its big draw being a very crisp display that mimicked the look of a paperback book, but that was easier to read, and could hold a library's load of books, and let you order more at any time. Since then it has evolved with the latest models Kindle Fire and Kindle Paperwhite. The Fire is trying to compete with the Nexus 7 and Nexus 10 from Google, and the Paperwhite is trying to put the smackdown on all other contenders in the e-book reading market.
Nook Weigh In
The Nook doesn't get quite as much attention as its Kindle rival, but it boasts similar stats and gets upgraded at a similar pace. You can now get a Nook HD and be on par with Kindle Fire HD owners and Nexus 7 owners. Upgrade to the HD Plus model and you're taking on Kindle Fire's HD upgrade to the 8.9 inch screen and going toe to toe with the Nexus 10.
Cost Comparison
The Kindle Fire HD with the 8.9 inch screen is $300, the Nook HD Plus is $270. The Kindle Fire HD with the 7 inch screen is $200, and so is the basic Nook HD. The Kindle Paperwhite is $120 if you get the one that shows ads on the screensaver, and is at the time of this writing the latest and greatest e-reader from Amazon. That would be for those that want a dedicated device for the best reading experience out there, and don't really need an all-in-one gadget. It's great to keep by the bed, or to take on long trips.
App Comparison
Both the Kindle and the Nook are running Android for their apps, so they match up evenly in this arena. And since they both come with HD screen apps like Angry Birds look phenomenal on them. The sound on the Kindle Fire HD beats out that on the Nook, which adds to the enjoyment not only of games and puzzles, but also movies and TV shows and of course music downloads.
Where They're Similar
At first glance you might think that the two units are made at the same factory and are just given different branding when it comes time to package them. In fact functionally they're very similar, and when it comes to the overall experience it's like trying to tell the difference between Coke and Pepsi. Anything you can do I can do better must be the motto at Amazon's and B&N's respective HQ. You can be they're hard at work trying to become more and more alike making the decision less and less crucial.
Where They're Different
The biggest difference is what they allow you to access. When you go the route of the Nook you're able to sync things up with your B&N account and buy all of the books that you'd be able to buy online. But with the Kindle you're getting access to everything Amazon, which includes tons of music, movies, and audiobooks via Audible, a company they bought some time ago. In that regards you're able to do much more with your Kindle than you are with your nook.
Another feature of the Kindle that is going to make this a no-brainer for parents is the ability to toss your young one the Fire HD and let them have at it thanks to FreeTime, a free service that is kid friendly and let's parents not only limit the amount of time their child spends on it, but also allows them to let their child read as much as they want, but put a cap on how many games or apps they can use in a given day.
Final Kindle vs. Nook Feature Match-Up
Let's take a look at the HDness of their HD screens: The Kindle Fire HD and the Nook HD+ both boast HD sharpness. You're getting 1080p on a 9 inch screen with the Nook, and a similar-sized 8.9 inches and matching 1080p on the Kindle Fire HD with the added screen size. Audio goes to the Kindle, with exclusive Dolby audio installed and no distortion that is common in portable devices. Apps is a draw,
And the Winner Is…
The Kindle is getting the victory belt in this battle. It's an easy winner if you've already got an account at Amazon.com. If you're a current customer of Barnes and Noble then you may want to go with them. With similar features throughout it comes down to a matter of convenience. "All my stuff's here anyway." is the sentiment that is giving the victory to Kindle, with more people likely to have bought something from Amazon at some point in the last decade. Having all of your purchases in one place and being able to buy books, movies, music and more from one spot makes it a fun and enthralling experience.
Keep in mind that no matter what choice you make, your decision will be outdated in two years' time and you'll have a chance to make things right by getting the latest release at that time. It takes some of the stress out of choosing, since they're similar enough so that you won't rue the day you chose one over the other, and if it turns out you just don't like what you have, there will be a new model razzling and dazzling you in no time at all.
What do you think? Which Works Better or Kindle or Nook?