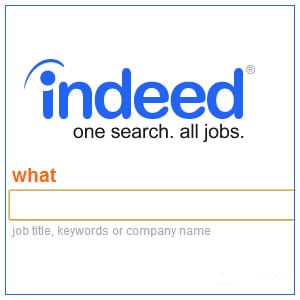 Indeed.com is taking a successful strategy that worked for Google and Kayak, and applied it to job searching. It pulls data from several other job sites, organizes it, and presents it to you in a stream of search results. The big question then is, does it pulls actual jobs that you can get, or is it simply scraping the bottom of the barrel and your search will be futile?
Overview
Jobs. They get a lot of political attention during an election, and it seems everyone either wants one, or wants a better one. For several years now Monster has been king of the hill, acquiring and shutting down its rival HotJobs. But several competitors have risen to take it on, and one in particular has managed to surpass it as the jobs site with the most visits. It will be interesting to see how long Indeed can maintain its top spot, and even more interesting to see if it can help you land your next job.
The Claim
The slogan for Indeed.com is "One search, all jobs." Clearly their goal is to provide you with all of the jobs you'd find by searching on your own, without having to leave the comfort of their site. At first we were a bit concerned, because you don't really want to go through all of the jobs that are out there, especially the ones posted by spammers and scammers, or the ones that are already filled, or that don't apply to you. But their algorithm must do a good job of weeding out the bogus jobs, and their filters can make it so you're only looking at relevant results.
The Hype
Indeed is now the most visited job search website on the Internet, which is a combination of user satisfaction and positive word of mouth. There's no way a site can get this popular unless it has some merit, so it's gotten the social validation of having millions of visitors use it, much the same way that Facebook reached its phenomenal growth. Sometimes a site reaches the tipping point where everyone starts to use it, which causes employers to start to use it, which makes more people use it, and it's a positive upward spiral.
The Cost
It's free for job seekers to use Indeed.com, and they make their money in the form of paid advertisements by employers. Employers are now able to run ads similar to the ones that you can put on Google using AdSense. They pay each time someone clicks their ad to look at the details of a job.
The Commitment
The point of the site is to save you time and streamline your job search into one website. What's nice is that you can search for these jobs without having to log in and register for an account. If you click on a result you're taken to the job listing at the site where they pulled the info from. If the job is hosted by Indeed they don't force you to sign up just to see if you're qualified for it. They don't even want you to sign up if you want to apply for the job. The only time you need an account is to post your resume, which is fair enough.
Evaluation
The results you get look similar to the search results from Google, and that's basically how Indeed.com started off. At first what it did was scour the Internet for all available jobs and organize it into one page so you could browse them all without having to visit dozens or even hundreds of sites. Now employers can post directly to the site, and job seekers can post their resumes to it as well, increasing the likelihood of being found.
One thing that's been noted by users is that Indeed might not be the best choice if you're in a specialized field and looking to find a job in that field. For example, if your job is highly technical, you might be better off using a site like Dice.com that is focused primarily on tech jobs. But you might also have some luck using the advanced search at Indeed, which lets you drill down to your hearts content by adding things like exact phrase match, and have your search results contain at least one of a specific word.
Final Indeed.com Review
While there's no guarantee that you'll be able to find a job using Indeed.com, they do provide all of the elements you'd need to do so. Go broad if any job will do, and go detailed if you're looking for a specific skill set. From our testing, the jobs that were displayed seemed very legit, which is something that other sites have a problem with. We couldn't find anything that looked like a work-at-home scam or selling Kirby vacuums. The jobs were ones that looked like jobs we'd go for if we weren't already happily employed.
Our Recommendation
Depending on the job you want you should exhaust all options. It could be that the best site to use would be craigslist if you want an hourly job, or something located in your local area. But as far as searching all of the other places like Monster, Career Builder, and Snagajob, you're better off starting with Indeed and then going to each one individually if you don't turn up enough results.
What do you think? Does Indeed.com work or not?