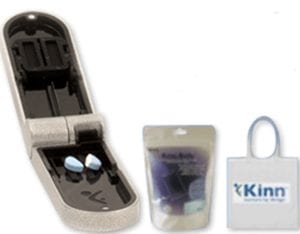 The Kinn Krocodile Pet Pill Cutter and Crusher is a pet product that is designed to help you give pet medication to your animal easier. Does it really make a difference, and if so is it worth the price?
Overview
Often we are required to administer pills to our pets to address a health problem or as a preventative. It can be quite a challenge to do this for the pet that won't co-operate. Most pets have a keen sense of smell so trying to bury a large pill in their food just doesn't work, as they can sniff it out and leave it in the bowl after consuming the rest of the food. The Krocodile allows you to either cut the pill in small chunks so it is easier to bury in the food or totally crush it so you can mix it in well.
The Claim
The company claims that this product is quick and easy to use. They state that the item is durable and even demonstrate how if it is ran over with a vehicle it remains unharmed. They state that the blade is rust resistant. The Company focuses on that the Krocodile is veterinarian tested and recommended. The promoters state that it avoids cross contamination for those that need to administer medications in homes where there are more than one pet.
The Hype
The hype around this product is all going to directly relate to the concerns that pet owners have for their pets. Pet owners are well known to spare no expense when it comes to the beloved animals. If there is a product that is going to enhance their health in any way, shape or form, then pet owners are going to be immediately interested. The promoters focus on how easy it will be to administer most pills once they have been prepared with the Krocodile. Then they elude to the fact that there is less risk of cross contamination with meds when more than one animal needs to be treated. Finally they focus on the cost savings of being able to reduce the size of some pills that require a smaller dose to be administered, by cutting the pill to the right size. This means not having to pay additional money for small dosed pills if needed.
The Cost
While the Krocodile may seem like a small and simple product it is not cheap to buy. You have a couple of options. First,you can make two payments of $19.95 and the shipping fee of $9.95, which is going to total about $50. Or you can make one payment of about $47. which saves you $3. on the shipping. Included in your order is 100 free Kroc bellies, and a free tote bag. The Kroc bellies are small plastic pouches that allows you to crush the pills in a clean manner.It comes with a limited life time warranty and satisfaction guaranteed.
The Commitment
Owning a pet such as a cat or dog is a big commitment in itself. When you have to administer medication that is in pill form it creates even more work. With the Krocodile it just may allow you to take on this challenge in a much easier and quicker way. Instead of having to devote time to devise ways to get your pet to take the medication you simply can focus on cutting or crushing the pill so it is easier to administer.
Evaluation
The concept of the Krocodile 2 in 1 pet pill splitter and crusher is a really good one. What is not all that acceptable perhaps is the price. When you look at having to pay $50. for this item it is a pretty steep price. This led us to check out similar products that could potentially give the same results at less cost. We discovered that there are tons of similar products on Amazon at a fraction of the price. We wanted to see what they were lacking that would justify the price of the Krocodile. We found one called the Ezy-Dose Ezy Dose Ultra Fine Cut And Crush Pill Splitter And Crusher. We chose this one because it is able to both cut and crush pills, it has a good selection of reviews, and some have used it to prepare pills for their pets. Out of 31 current reviews it has received a 4 star rating. The price however is only about $7.plus shipping.
Final Krocodile Review
Based on everything we have learned about this product we are giving it a Risky Try/Buy rating. We reached this conclusion based on the price and not the quality or concept of the product which is very good in both areas. While the price we referred to here for this product is based on the As Seen on TV offer, we also found it at a higher price at Sears ranging in price from about $65. to $81.
Our Recommendation
We too are pet lovers and we really enjoy finding products that are going to make both the pets and their owners happy. A good example of this is the Ruff Wear Harness that we talked about awhile back. This too was a relatively expensive product but it is unique in many ways and has some true value. The Krocodile also has some real value but it seems to us that you can find that same value at a cheaper price.
What do you think? Does the Krocodile work or not?