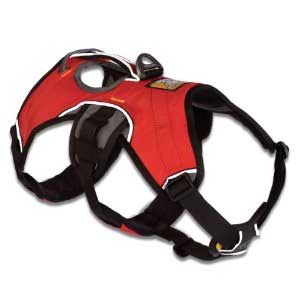 They say that a dog is man and woman's best friend, and the Ruff Wear Harness makes it so you can take them with you on your fun adventures. Letting them go untethered on rough terrain is pretty risky, and so is using a traditional collar and leash. With this Harness in place you don't run the risk of strangling your dog, and you retain all of the good benefits of having them on a leash so they don't get into too much trouble. So how well do these harnesses really work when tested out?
Overview
Dogs and the outdoors go together like peanut butter and jelly. If you've always thought about taking your dog on rugged trips but didn't have a good way to keep them near you, the makers of the Ruff Wear Harness are banking on having the solution to your problem. They've created a rather extensive line of specially crafted dog harnesses that will keep your dog by her side under extreme conditions.
The Claim
The Ruff Wear Harness wants you to gear up your dog so that they can follow you on all of your outdoor adventures. They've got specially designed harnesses for any sort of trip you can imagine, and it's all about outfitting your dog properly, and going with the features that you need. They've even got life jackets for your dog, for all of your water play.
The Hype
Once you see the way this works, you are pretty much hooked. It's nothing like a leash and collar, or any other harness we've ever seen before. The hype comes from people loving the outdoors plus loving dogs. Put them together and it's a match made in heaven.
The Cost
The price of a Ruff Wear Harness varies by size and style, as well as how what sort of features it has. As an example their Small Web Master Harness can be found for around $55, and one of their more basic models.
The Commitment
All that you'll need to do is put the harness onto your dog, and use it instead of a collar. When you're out in the backcountry, and collar and leach just doesn't make sense. It's more for city dwelling. This should improve the time you spend with your dog outdoors, and make things more enjoyable for all involved.
Evaluation
The Ruff Wear company is the go-to place for everything you need for your dog as far as outdoorsy type stuff goes. They aren't messing around when it comes to the quality of their product, and they know that you will be putting your dog's life, and potentially your own, into the hands of their products. They take it seriously, and it's nice to see a company make human-quality gear for man's best friend. A lot of companies out there that make pet products have the "good enough for who it's for" mentality and try to skimp on craftsmanship. But they forget that it's the owners that will be reviewing it for quality.
Dogs Have More Fun
These products pretty much guarantee having more fun with your dog. Once you have a Ruff Wear Harness you'll probably start brainstorming all of the different things you want to do. When before you had to put the kibosh on bringing your dog with you, you can give it the green light now that they are properly equipped. If you thought you were having fun outdoors before without your dog, just wait until they bring their companionship to an already enjoyable activity. They are so in the moment that it can't help rubbing off on you, and any thoughts of the real world back home will melt away.
Final Ruff Wear Harness Review
The Ruff Wear Harness is getting our coveted Thumbs Up review. These are well-built harnesses that will keep your dog safe while trekking by your side through various terrain. Whenever you need to, you can grab the handle on top and move them where you need them to be. It's also designed with your dog in mind, they've lined the straps with fleece so that it doesn't chafe them. By using a harness instead of a collar you spread their weight out evenly, and you won't choke them or restrict any of their limbs when lifting them completely off the ground.
Our Recommendation
Dogs are not only great company indoors, but outdoors as well, and if you ever run into trouble they can pull a Lassie and go get help, or bark until someone comes. There are countless stories of dogs doing remarkable things when their owners need their help. We recommend going with these harnesses because they are humane way to keep your dog safe while still having fun, and still being a dog. They don't restrict the dog's movements, and fit very naturally to their body.
When you compare this to bringing a collar and leash, the difference is clear. One example that is given is if you're trying to go rock climbing, and there is a crevice that needs to be crossed, you just lift your dog from one side to the other. If they were on a collar and leash you could potentially end up hanging your dog over the edge only supported by their neck. Not a good situation to be in, and one of countless scenarios that could potentially happen when you are roughing it.
Visit the RuffWear.com to purchase Ruff Wear products.
What do you think? Does Ruff Wear Harness work or not?