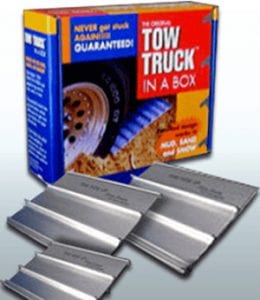 One thing that every vehicle driver gets concerned about during harsh weather is getting stuck. Not only can it be dangerous but it can be a real hassle getting free and expensive too. So can Tow Truck in a Box solve all these problems?
Overview
This is a product that if it lives up to all the claims that it is making, that every vehicle driver should have. Nobody can accurately predict the weather and storms can occur without warning. They can hit fast and hard and if you find yourself driving through one there is a real risk that you could end up getting stuck in a snow drift or slick mud. This product claims to be the quick and easy solution for getting you out of this predicament.
The Claim
The promoters of this product really cover all the potential getting stuck mishaps that any driver could face. They claim their product will help you to get out of snow, ice, mud, and even sand. That just about covers all the potential threats of getting stuck. They claim that by simply connecting the plates together and placing them under your wheels you can just get behind the wheel of your car and drive right out of the medium that you are stuck in. They claim it will put an end to your waiting for help and will save you lots of money in tow truck fees.
The Hype
The company has covered all the potential hassles that comes with getting your vehicle stuck. Probably one of the most important ones is the instant help that the product is supposed to give. No having to make phone calls to family members to come and rescue you, or hoping you have enough money on you to cover the tow truck fees if this is who you would turn to for help.
The Cost
In the marketing material the company is not specifically saying what the shipping and handling fees are but the base cost of the product is about $20.In additional marketing material they state that there is a 60 day money back guarantee minus shipping and handling. They also say that it is guaranteed for life.
The Commitment
The one thing you are going to have to be absolutely sure to do is keep the Tow Truck in a Box tucked away in your car so it is ready to use when a situation arises. You may even want to test the product when you receive it. This way you will be familiar with putting it together and how it works. You don't want to be learning this during the actual situation like when you are stuck on the side of the road in a snow storm.
Evaluation
There are several things that we wanted to consider during our evaluation of this product. First is will it really work in all of the situations as promoted? This would depend on the durability of the product. It seems to be comprised of quality materials like the aircraft quality aluminum so it is going to be able to take the weight of the vehicle. Plus, this material isn't going to rust or lose it's shape so you can count on repeated use. Then we wanted to consider the ease of use. Women drivers should certainly feel a sense of security knowing that they have this product to rely on should they find themselves stuck with their vehicle. This is a product that they can easily use themselves which means they don't have to rely on strangers or wait for help to arrive. This is a real bonus. Then when you compare the cost of the product to what the fees for just one use of a tow truck would be, it makes the cost most reasonable.
Final Tow Truck in a Box Review
We are going to give this product a solid Try/Buy Rating. It came very close to getting our thumb's up except for one issue. At the current time when you click on the buy now, a page will come up telling you the offer is no longer available. Now we are thinking that perhaps it is because the Company has been so busy they have sold out and are waiting to replenish their stock. Under normal circumstances we might assume that this was just a temporary offering and the product would be no longer available. Our research shows that this product was the winner of the Motor trends/truck trends product of the year. Although it doesn't say which year there is every indication that the product has been around for awhile, so we feel there is some stability here in product production.
Our Recommendation
We like to support various vehicle products that really do enhance owning a vehicle, as well as give our opinion on those that we feel aren't worth the investment. In the past we reviewed another type of vehicle product called the Wheel Jelly which is in a different category than the Tow Truck in a Box, but can be somewhat related. Whenever you get stuck whether it is snow, sand or mud it really can leave your tires in one heck of a mess. The Wheel Jelly may be just the product you need to restore them back to a nice clean condition. Check out the review and see what you think. Now, as far as the Tow Truck in a Box not being immediately available, if you simply cannot wait to get a hold of this type of resource then there are similar products available on amazon like the Portable Tow Truck. It is a little more expensive but it has some good reviews.
What do you think? Does the Tow Truck in a Box work or not?