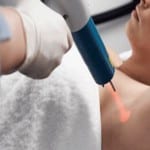 There may be cheap creams and at-home laser treatments you can buy to remove unwanted hair, but the granddaddy of them all is laser hair removal at a spa or other skin care clinic. It's the Holy Grail of hair removal and many would-be patients wonder if it could possibly be true. Can you rid a lifelong nuisance in one afternoon at your local hair removal clinic?
Overview
Human beings are hairy beasts. Almost our entire bodies other than the palms of our feet and hands have some type of hair coverage. It's only natural that at some point this hair will become a nuisance, and we'll want it removed. Enter hair laser removal with its promise of smooth, sexy, hairless body with the use of space age technology.
The Claim
Get zapped with harmless lasers and be rid of problems hairs permanently. Before and after pictures show just how effective laser hair removal is, and how easy it can be to be hair-free by this time tomorrow.
The Hype
The hype comes from the before and after pictures, as well as the lack of information regarding how safe the treatment is, how permanent the results are, and how fast and easy the process is. Of course this is somewhat innocent on the part of the clinics, after all they do have to show you the results in order to get you interested. However, there doesn't seem to be much talk about what the process entails, and if everyone is able to get the same results as the people in the pictures.
The Cost
The costs of laser hair removal can be staggering. Because they vary by body part, and by how many times you'll need to go in to treat the same area, it's impossible to get accurate one-price-fits-all data. You should look at spending at the very least a few hundred dollars, all the way to several thousand for larger areas.
Another factor to consider is the technology that is used. Not all laser hair removal machines are created equally, and if you find an offer that sounds too good to be true, you might be getting roped into a clinic that uses an older, outdated model. This could mean that you'll need to come in more often, or that you could be needlessly subjecting yourself to harmful laser beams.
This is not a procedure you'll want to pinch pennies on. If you're serious about getting that problem hair removed, it's best to save up for the best treatment you can possibly get. Make sure the clinic is using the most state-of-the-art equipment, and fact-check to see how long the equipment has been in use, and how safe it's been reported to be.
The Commitment
You have to be willing and financially able to go get as many treatments as it takes in order to get the smooth skin you want. Many negative reports come from consumers who did not see the treatment through to the finish, and complain that it didn't work, or they received mixed results.
Evaluation
There are so many determining factors they play a part as to whether or not laser hair removal will work for any given individual. First they must be a good candidate for the treatment. They must next choose an office that uses proper equipment that is fully functional. This equipment must be operated by a user that knows what they're doing.
Even with all of these in place, it is still possible that the hair could grow back at a later time due to hormonal changes, or the natural human aging cycle. With so many inconsistencies it's safe to say that overwhelmingly no, laser hair removal does not work as well as it is touted to.
Does Laser Hair Removal Really Work?
Because it's so hit or miss, the industry itself doesn't use the term 'removal' very much any more. There is such a mixed bag of results, and so many factors that go into the process that there's no way to tell what sort of job they'll do on you. The only way to know if it will work for you or not is to try it and see what sort of results you get. Unfortunately this is one of those instances where no matter how many reviews you read you won't know until you give it a go.
Our Recommendation
If you've got a hair-covered area that just drives you crazy, or leads to a poor self image, it can be a good idea to get laser hair removal. Not having to deal with that problem area any more would bring a lot of relief to your day, and make you that much more confident in yourself.
The key is to go in with reasonable expectations, an open mind, and a large budget. A lack of either of these three items is what leads to people giving negative reviews of laser hair removal. Also, be sure to get a guarantee that includes follow-up visits should your hair return, that way you get the most for your money.
What do you think? Does Laser Hair Removal really work?